Bitcoin Isn't Really Banned in China—and It's Quickly Gaining Ground
By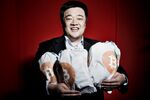 Bobby Lee, the founder of China's biggest Bitcoin exchange, BTC China, went on Bloomberg TV yesterday to knock down the false notion that virtual currency had been banned in his country. In December, China's central bank issued guidance that bars financial institutions from processing transactions in Bitcoin. In other words, its not real currency: You can't pay off your credit card though a bank account stocked full of Bitcoins. That's essentially the same gray status that Bitcoin enjoys in the U.S.
Still, the announcement by China's central bank triggered a big selloff. Between late November and mid-December, Bitcoin's price fell by more than half, from about $1,100 to a little more than $500. During an on-the-record breakfast at Bloomberg's Washington (D.C.) office on Wednesday, Lee said that trading volume on BTC China plunged as much as 80 percent after the announcement. That's spurring him to change the exchange's business model from one that gets its revenue mostly from fees associated with trading volume to one that offers clients "premium services."
Far from being banned in China, Lee gave the impression that Bitcoin is gaining a stronger foothold there than in the U.S. For one, he said, it's far easier to set up a Bitcoin exchange in China, partly because there's just one government entity to deal with rather than the collection of state and federal agencies in the U.S.
Yet the U.S. appears to be winning the fight for investors. According to a report from Aite Group, of the $117 million in venture capital investments directed toward Bitcoin startups so far, $98.6 million has been funneled to 19 companies in North America, while just $13.3 million has gone to nine startups in Asia.
Earlier this week, David Cohen, under secretary for terrorism and financial intelligence at the U.S. Treasury Department, gave a somewhat tacit approval to Bitcoin. My Bloomberg Businessweek colleague Josh Brustein summed up Cohen's message as basically saying that so long as Bitcoin remains impractical, Treasury will leave it alone. That's good news for now, but for pioneers such as Lee, the challenge of legitimizing Bitcoin isn't so much in keeping it out of the hands of terrorists as in getting into the hands of everyone else.
In Lee's opinion, we're past the point at which governments can stop Bitcoin: It's global, it's decentralized, and, as bizarre as it may seem, it has obvious potential as a disruptive force. But in terms of its evolution, Bitcoin is still embryonic. Lee compared Bitcoin in 2014 to the Internet in 1993. Over the next five to 10 years, he expects a tidal wave of venture capital to pour into the business, just as VC's began pumping billions into Web startups in the mid to late 1990s.
Keeping with the dot-com comparison, it seems fair to say that a crash or two will follow before Bitcoin begins the slow, steady climb to legitimacy. If Bitcoin makes it that far, that's when the big questions will start getting answered about how governments view it and whether businesses can be persuaded to start accepting it en masse as a form of payment around the world.