Architect Liz Diller's Firm Raises Urban Renewal to High Art
She and her partners have raised urban renewal to a high art
Jessie Scanlon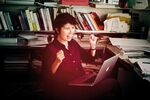 On a cold evening in late January, Elizabeth Diller, the 59-year-old founding partner of the New York-based architecture practice Diller Scofidio + Renfro (DS+R), took the podium at Manhattan's Society for Ethical Culture before an audience of 800, many of them spoiling for a fight. "The most praise that I've received in the last three weeks is for my bravery in coming here tonight," she began. Diller then spoke with her usual precision on the evening's topic—the Museum of Modern Art's controversial decision to tear down a neighboring building, the former home of the American Folk Art Museum.
The demolition is part of MoMA's expansion, which Diller's firm is designing. It's a choice that has ended Diller's and her partner and husband Ric Scofidio's longtime friendship with the architects Tod Williams and Billie Tsien, also a couple, who designed the Folk Art Museum 14 years ago. (Williams and Tsien released a statement on Jan. 8 calling the decision "a loss to the city of New York" and "a missed opportunity to find new life and purpose for a building that is meaningful to so many.") Diller has said that when her firm took on the project, they thought they would persuade MoMA to save the building, but after six months of study they concluded it had to go. "I'm typically one for adaptive reuse," she says. "Sometimes it doesn't work out."
Diller has always been more committed to the bold idea than tradition and forged her own path to prominence. She and Scofidio met when she was his student at Cooper Union. In 1979 the two became professional and romantic partners. (They claim not to remember when they got married, but most assume it was sometime in the 1980s.) Instead of trying to find work at a giant firm such as Gensler or Skidmore, Owings, & Merrill, she used credit cards to fund research projects that blurred the line between architecture, art, and technology—especially digital displays of information in physical spaces. Along the way, Diller's work won her a MacArthur Foundation fellowship, aka "genius grant," and a National Design Award. In 2001, DS+R won its first big commission, which was also its first standalone building: a new home for the Institute of Contemporary Art in Boston. The first new museum built in that city in a century, it opened in 2006. Located in a dead zone along the Boston waterfront, the ICA soon attracted developers and restaurateurs to nearby Fort Point, now a booming neighborhood.
More high-profile commissions followed, including the Columbia University Medical Center in New York, an inflatable addition to the Hirshhorn Museum on the Mall in Washington, and the Broad Art Museum in Los Angeles. Although these and other projects secured DS+R's place among the discipline's elite, Diller is still more of a heretic than Establishment. If there's a unifying thread in her work, says Christopher Hawthorne, architecture critic at the Los Angeles Times, "it's not visual or formal. It's more about bringing a certain conceptual sensibility to bear, about rethinking how people gather in contemporary cities." As a thinker, "explaining the conceptual framework for her pieces, she is probably more impressive than anyone that I can think of," Hawthorne adds. "But that doesn't mean that you are great at making spaces. I think the jury is still out on what their legacy will be as builders."
In early 2003, Diller's firm began work on a redesign of New York's Lincoln Center, the 16-acre complex that is home to the Metropolitan Opera House, Alice Tully Hall, the Juilliard School, and nine other nonprofit organizations. She converted Lincoln Center from an unwelcoming civic space (the buildings were monumental and the plaza between them unshielded from sun or wind) into a more campus-like space, including a grass-carpeted verge above a partially sunken new restaurant.
Diller is currently working on the redevelopment of Hudson Yards, a project that grew out of DS+R's work on the High Line, the elevated train track running from lower Manhattan to Midtown on the West Side. Abandoned decades ago, the city planned to tear it down. But neighborhood activists took up the cause, and DS+R reimagined the track as a public park. "This started off as a $150 million project," says Diller, who worked hard to convince politicians and nearby businesses that the High Line was a good idea. "It's spawned something like a couple of billion dollars of development around New York." It's also inspired dozens of local governments around the world to consider how they might repurpose existing infrastructure. Diller is surprised and delighted by the project's success. She misses the illicit thrill of her first walk on the High Line—back when it was illegal to enter—but she appreciates the park as "an opportunity to see the city in a very different way from a different vantage."
At Hudson Yards, a 28-acre parcel on the western edge of Manhattan where the High Line ends, Diller's firm is collaborating with architect David Rockwell on the Culture Shed, scheduled to open in 2018. The building will include flexible exhibition space as well as a massive extendable roof. "This project can pretty much take anything that is thrown at it," says Diller. "What does art look like in the future? We don't know. All we can do is project a chunk of space and have an open infrastructure that can support it."
The first decades of Diller's career involved art installations, performance sets, and conceptual buildings, and she has retained an interdisciplinary streak. Director Spike Jonze names DS+R in the credits to Her. A conversation with Diller and Scofidio, he has said, helped him imagine the near-future world of the movie. Diller returns the favor, citing Jonze's vision as inspiration for a project she is just beginning in Moscow. In Her, she says, "things are just slightly off, and not everything lines up predictably."
Before it's here, it's on the Bloomberg Terminal.
LEARN MORE