Guard Colon Re-Signs With NFL Jets as Titans Cut Kicker Bironas
Rob Gloster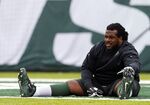 The New York Jets said they re-signed guard Willie Colon, who started all 16 games for the team last season in his first year with New York.
Colon, 30, spent his first six National Football League seasons with the Pittsburgh Steelers. The Jets didn't disclose contract details. ESPN reported it was a one-year deal for $2 million, citing a person in the league it didn't identify.
"Ultimately, this is where I wanted to be," Colon, a native of the Bronx who played at Hofstra University, said in a statement on the team's website. "I'm homegrown and finishing here was important to me."
The Jets were second in the American Football Conference last season with 2,158 yards rushing during the regular season.
Also yesterday, NJ.com reported that free-agent quarterback Michael Vick plans to visit the Jets as early as the end of this week. The website cited a person close to the situation who was not identified.
The Tennessee Titans said they waived Rob Bironas, who has been the team's kicker since 2005. Bironas, 36, played in all 144 games for the Titans during those nine seasons, scoring 1,032 points and making the Pro Bowl in 2007.
ESPN reported that Bironas would have been due a $250,000 roster bonus this week, along with a $2.875 million base salary for the 2014 season.
The Dallas Cowboys announced in a news release that they had signed unrestricted free-agent defensive tackle Henry Melton, 27, who spent the first four years of his NFL career with the Chicago Bears. Melton made the Pro Bowl in 2012.
Before it's here, it's on the Bloomberg Terminal.
LEARN MORE