Traveling to Beijing? Have You Considered Smog Insurance?
By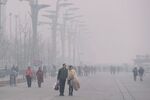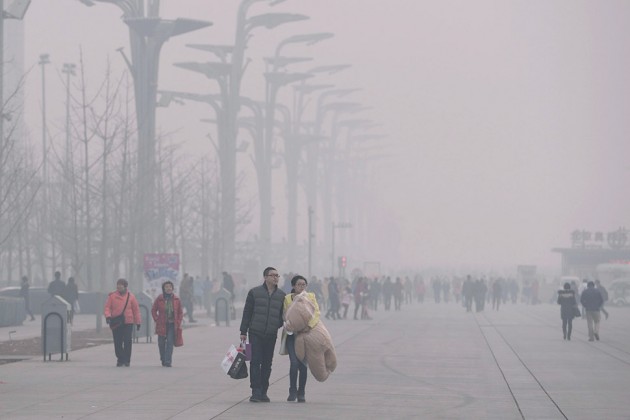 With the coming of spring, the smog-choked residents of Beijing can at last look forward to some relief. Coal-burning stoves during the cold Chinese winters contribute to a lot of the city's smog, which is now even visible from space. The Chinese government admits the pollution problem has spun out of control, with Li Keqiang, China's premier and No. 2 leader (behind President Xi Jinping), last week declaring war on smog at the annual meeting of the rubber-stamp legislature, the National People's Congress.
Maybe China's war on smog will turn out better than the U.S. wars on drugs and poverty. Meanwhile, one Chinese company has figured out a good way to cash in on the pollution fight. Ctrip.com International, a Shanghai-based company that sells plane tickets and airline reservations online, is teaming up with one of the country's top insurers to offer travelers some peace of mind: Worried about not being able to breathe during your next visit to Beijing or Shanghai? Buy smog insurance.
Here's how it works, according to a report in the official China Daily newspaper. (Ctrip didn't respond to a request for comment from Bloomberg Businessweek.) Visitors to six Chinese cities—including Beijing, Shanghai and Guangzhou—who book their tickets via Ctrip can pay up to 15 yuan ($2.42) for what the China Daily euphemistically calls "haze insurance." If the air turns out to cross a certain threshold (it varies from city to city), travelers can get some money back. "The tourist can claim the compensation by providing an identity card, a compensation application form and an itinerary copy," the newspaper helpfully explains. "Haze and smog have become a huge concern for Chinese people. Ctrip designed the insurance product to make up for any loss tourists suffer from pollution as well as to provide a better travel experience."
Chinese travelers shouldn't take off their face masks and shout for joy just yet. The maximum amount Ctrip and its partner, Ping An Insurance, will pay out is just 50 yuan (a whopping $8.07) per person, per day, for trips that last no more than a week. Even in China, which isn't as expensive as the U.S., 50 yuan doesn't get you far.
Still, smog insurance is probably a smart move by Ctrip, which faces growing competition. After dominating the market for years, it confronts a tough challenge from Qunar (which roughly translates as "Where To Go?"), a company controlled by search giant Baidu. With support from China's most popular search engine, Qunar can count on getting clicks from would-be travelers searching on Baidu for deals.
So far, Ctrip doesn't have ties to either of the other members of Chinese Cyberspace's Big Three, Tencent and Alibaba. A deal is possible, especially since Alibaba, which wants to capitalize on the growing popularity of mobile commerce, is getting ready for an initial public offering and has been busy gobbling up smaller companies.
For now, Ctrip is relying on promotions and gimmicks such as lucky draws, cash rebates, flash sales, and free gifts to stand out from the pack. "As the undisputed leader, [Ctrip] is a business with breadth and depth," wrote Brean Capital analysts Fawne Jiang, Long Lin, and Anne Shih in a report published on Feb. 13. "The company is investing for long-term growth on the back of its solid fundamentals."  The government may have declared war on pollution, but as Ctrip looks for long-term growth opportunities, Chinese smog is probably a safe bet.
Before it's here, it's on the Bloomberg Terminal.
LEARN MORE