Russell Crowe Meets the Pope, but Will Religious Viewers See Noah?
By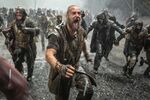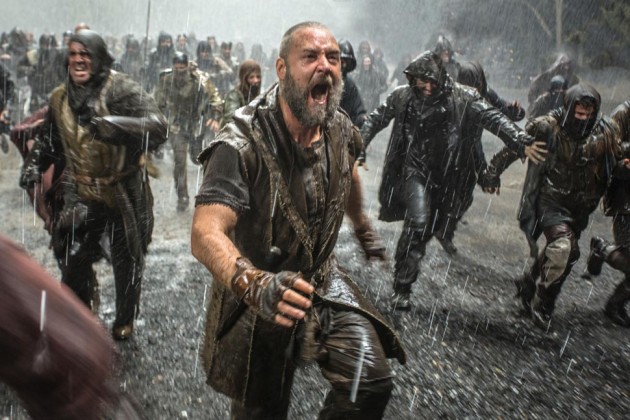 It's not exactly a Papal blessing, but it'll have to do. Today, Noah star Russell Crowe and director Darren Aronofsky, along with other representatives from Paramount, met with Pope Francis during the General Audience in St. Peter's Square, two days after news broke that the Pope had canceled an earlier, private meeting at the Vatican with the filmmakers of the upcoming Biblical epic, which opens in the U.S. on March 28 and in Italy on April 10.
General Audiences are open to the public, so this isn't the holiest of photo ops, but Paramount is taking what it can get. The studio has been hoping the pontiff's unofficial blessing would help get religious viewers out to see the wannabe blockbuster, especially after the film took some early hits from religious groups.
First, there was bad buzz out of rough-cut test screenings last year in New York and Arizona. Last month, a company called Faith Based Consumer released a poll that suggested Christians were less than pleased with the idea of a film that took artistic liberties with the Biblical story. The poll didn't cite Noah specifically, and Paramount immediately countered with surveys from Nielsen and the religious research firm Barna Group showing that more than 80 percent of Christian viewers were extremely interested in seeing the film. But headlines such as "Faith-Driven Consumers Dissatisfied With Noah" had done damage. Crowe took to Twitter to try and persuade the Pope to see the movie.
While Pope Francis himself had no plans to actually view Noah, filmmakers hoped a brief Vatican visit would ignite the same promotional magic that Mel Gibson's The Passion of the Christ scored in late 2003, when Pope John Paul gave the controversial film about Jesus's final hours his seal of approval, declaring, "It is as it was." The Passion went on to gross $370 million domestically (and more than $610 million worldwide) and awakened Hollywood to the box-office potential of religious films. Although there have been small-scale successes, no film has come close to replicating that movie's success.
A number of mainstream, religious-themed films will try this year. The first of these, Son of God, a reedited version of the Jesus scenes from last year's hit miniseries The Bible, opened to a solid $25 million in late February. After Noah opens next week, April's Heaven Is for Real (an adaptation of the runaway bestseller) and May's Moms' Night Out (billed as a rowdy, faith-friendly comedy) are trying to reach religious viewers with more contemporary stories. In December come two more Biblical epics, Ridley Scott's Exodus, starring Christian Bale as Moses, and Mary Mother of Christ, starring Ben Kingsley as King Herod. There's also a Nicolas Cage-starring reboot of the Left Behind Christian sci-fi novels on the horizon; its release date has not been set yet.
The Passion was a unique case, but it also demonstrated the power of faith-based institutions as engines of film promotion: Church leaders actively encouraged congregants to see the movie, often organizing group trips, giving away free tickets, and even setting up info booths and prayer sessions in theaters.
"Hollywood doesn't 'get' faith-based audiences, but they do know that there's definitely a market for these stories and that this is an audience that's committed to this material," says David Poland, editor of Movie City News. He points to the fact that only about 13 percent of Americans are frequent moviegoers (defined as those who go to the movies at least once a month). "If you can reach the Christian audience, then you're getting through to an audience beyond the usual people." A recent Fandango survey showed that 68 percent of religious viewers who were buying early tickets to see Son of God saw few other movies this year.
Much of Son of God's success can be attributed to the heavy outreach by its producers, evangelical power couple Mark Burnett (Survivor) and Roma Downey. Their faith-based bona fides are intact, but they've also done an enormous amount of legwork to promote the film, speaking at the National Prayer Breakfast and actively discussing how religious leaders can use it as an evangelizing tool. The process started even before cameras began rolling: "The first thing we did was to get a group of 40 church leaders and run scripts by them," Burnett told the Daily Beast
That type of outreach is risky, says Rebecca Cusey, managing editor of Patheos.com, a popular online hub for religious coverage. "There's a lot of resistance among the faith-based audience. People don't want to be taken advantage of, and they're not going to run out to see a movie just because it has a character who loves Jesus or a relation to the Bible."
As a result, studios often hire marketing firms with roots in that world to get through to pastors of large churches or hosts of radio programs. To help promote Noah among Christian leaders and tastemakers, Paramount is working with the company Grace Hill Media, which had previously worked on getting pastors and congregants interested in the Superman movie Man of Steel.
So where does that leave Noah, the brainchild of a secular, independent filmmaker who is unlikely to attend a National Prayer Breakfast? Box-office watchers currently expect the movie to open at more than $35 million when it premieres on March 28—a solid, if unspectacular, number. With more than a week and a lot of heavy promotion left to go, that figure will probably rise. But can it come close to matching the $83 million opening of The Passion of the Christ? Not even the Pope can work miracles like that.
Before it's here, it's on the Bloomberg Terminal.
LEARN MORE