Putting a Price on FedEx's Worst Winter Ever
by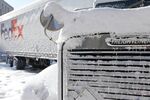 Forget about tallies of snowfall, average temperatures, and canceled flights, FedEx just made it official: This winter was the worst. In the words of Chief Executive Officer Frederick Smith, the season was the "toughest" that his charge has ever navigated, particularly January and February, "when it really got bad."
All told, the relentless parade of storms—about 20 in all—cost FedEx about $1.4 million per day in would-be profit last quarter, a total of $125 million. With that kind of money, the company could buy almost one-third of the country's annual snowplow output or about 5 percent of Vail Resorts. That is, if it wanted to hedge its bets on the weather.
In terms of deliveries, the polar vortex waylaid an average 40,000 express packages each day for the quarter, plus 100,000 daily ground shipments, even as FedEx forked out a heap of extra money on de-icing and "purchased transportation" for those times when its planes and trucks weren't in the proper places.
It seems as if every American CEO has turned into a meteorologist the past few weeks, with a broad range of weather warnings. There's the inclement level of excuse, such as Karen Hoguet's at Macy's: "Clearly much of this weakness resulted from the bitter cold temperatures and frequent snow events in January." There's the heavy grade, such as Urban Outfitters CEO Richard Hayne offered: "Even if the stores were open, customers hesitated to go outside due to extreme cold temperatures and difficulty getting around." The FedEx language, however, could only be called severe. "To have $125 million impact to us was really beyond the realm of believable," Chief Financial Officer Alan Graf said on a conference call with analysts this morning.
Keep in mind, this is a company that knows something about operating under harsh conditions. Assuming that FedEx wasn't being hyperbolic—and that this winter was indeed the worst in four decades—it would qualify as what risk managers call a fat-tail or "Black Swan" event. In other words, the polar vortex could be to shipping what the subprime crisis was to housing and banking.
It will be interesting to see whether FedEx tweaks its weather models next year to build in a little extra capacity. One school of thought would consider that a prudent step; the other would say the company is probably safe for the next 40 years.
Before it's here, it's on the Bloomberg Terminal.
LEARN MORE