NCAA Faces a Fresh Antitrust Challenge as March Madness Begins
Paul M. Barrett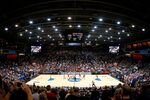 The National Collegiate Athletic Association can't catch a break. Even as March Madness unfolds, with its joyous tribal rituals and lucrative corporate sponsorship, the NCAA's legal troubles mount. The latest threat: a fresh antitrust lawsuit filed in federal court in New Jersey on behalf of football and basketball players who allege that the association and five top conferences run a "cartel" that generates billions of dollars in revenue while capping the compensation of athletes.
Scott Soshnick of Bloomberg News elaborates:
Four athletes filed an antitrust complaint on the eve of the NCAA men's basketball tournament seeking to bar the association and five "power conferences" from enforcing rules that ban colleges from competing financially for players and limit payments to tuition and related fees.

The antitrust suit, if successful, may lead to bidding wars for top high-school talent. It joins a separate case, scheduled for trial in June, in which athletes seek to overturn an NCAA rule barring college players from profiting from their names, images and likenesses. Recent lawsuits over head injuries and scholarship caps also attack the NCAA.

"This is yet another danger to the current model of current athletics," said Gabe Feldman, director of the Sports Law program at Tulane University in New Orleans. "This becomes an instantly credible threat to the NCAA."
On top of the courtroom assaults, the $16 billion-a-year college sports industry is also grappling with the campus scandal of the moment: The University of North Carolina at Chapel Hill has brought in a special outside counsel to re-investigate a long-simmering debacle involving the steering of basketball and football players into fake lecture classes that never met. The academic fraud at UNC, which has led to the indictment of a former chairman of the school's black-studies department, is particularly troubling because of North Carolina's sterling educational reputation.
How to make sense of this season of heightening turmoil within the NCAA? One way to understand what's going on is to regard it as a breakdown in belief in the ideal of the "student athlete" in the revenue-generating sports of football and men's basketball. According to this model, talented athletes provide entertainment (from which their universities—and television networks and merchandise marketers—derive ample revenue) in exchange for a subsidized education and, in a tiny percentage of instances, a shot at a pro career. Student athletes in this model don't realize the market value of their services as measured in hard cash.
If the college sports industry delivered on its promise of a quality education, the traditional model might make sense. I emphasize might. A growing number of current and former college athletes are agitating for something more than that education, especially since so few of them can expect to make a post-campus living from shooting baskets or tackling opponents.
Let's assume, for the sake of argument, that a poor kid wants to trade on his football prowess for a scholarship and a degree. Who's to say he shouldn't have that opportunity? And why shouldn't television networks get to sell some advertising while footwear companies hawk sneakers and alumni shout themselves hoarse?
That all might be fine if, in fact, the young athlete got a real education. Here's where the fake-classes scandal collides with the suits demanding cash compensation for college athletes. The North Carolina experience suggests that—even at schools with strong academic traditions—some football and basketball players are getting cheated out of what they have been promised.
Mary Willingham, an academic adviser at UNC who formerly worked closely with athletes struggling to maintain their eligibility, has spoken out about the fake classes at Chapel Hill as well as the unrealistic expectations placed on gifted football and basketball players who arrive with limited classroom skills. Her story is at the center of a recent Bloomberg Businessweek cover article, and she has provided a sworn declaration in one of the legal actions pending against the NCAA: the suit in California trying to defeat the association's prohibition on college players profiting from use of their names and likenesses in video games.  Willingham's nine-page declaration (PDF) makes for bracing reading.
Here's a taste:
The college football and basketball players I worked with sometimes earned a degree, but they did not get an education. They simply did not have equal access to a real education because the academic experience for athletes is separate and unequal. They arrive unprepared and remained unprepared because of institutional priorities. They did not have access to all courses and degree programs. … At UNC, there are roughly 80 majors in the college of arts and sciences. But athletes in the profit sports predominantly pursue three majors—Communications Studies, Exercise and Sports Science, and African American and Diaspora Studies. … Part of this is a result of institutional denial: I was often told at UNC that 'we don't do remedial instruction here.' But another cause of the separate and unequal treatment to which profit-sport athletes at UNC are subjected is the NCAA imperative to stay 'eligible,' educational consequences aside. In my experience, football and basketball players are ushered through a special curriculum constructed just for them. The courses in that curriculum, though they usually make no sense as a coherent course of study, have one thing in common: They are known to be easy, manageable, or friendly, and they therefore 'help' athletes, and the compliance office, with eligibility."
Food for thought while munching popcorn, sipping a beer, and cheering your team's progress to the Final Four.
Before it's here, it's on the Bloomberg Terminal.
LEARN MORE