Japan Inc. Strongest in Decade Drives Hunt for Takeovers Abroad
Shigeru Sato, Yuki Yamaguchi and Monami Yui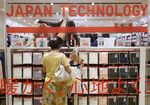 Japanese companies are poised to renew a push for overseas takeovers this year, driven by low borrowing costs and the strongest balance sheets in more than a decade.
Potential buyers include Fast Retailing Co., owner of the Uniqlo clothing chain, which has held talks to purchase J. Crew Group Inc., people familiar with the matter said last month. Japan Tobacco Inc., maker of Camel and Winston cigarettes, is seeking targets in emerging markets, while Mitsubishi UFJ Financial Group Inc. is studying acquisitions of U.S. lenders, people familiar with the situation said.
The moves signal a willingness by Japanese companies to start spending their record cash after corporate debt to equity ratios fell to the lowest since at least 2000. Higher profits and corporate borrowing costs near an all-time low are also making conditions ripe for overseas acquisitions. The year's first big deal came in January when Suntory Holdings Ltd. agreed to buy U.S. whiskey maker Beam Inc. for $16 billion.
"With a large pile of corporate cash built after the financial crisis and enormous amounts of deposits at commercial banks in Japan, companies can easily access cheap funding," said Shintaro Okuno, a Tokyo-based partner at Bain & Co. "All these reasons will clearly give CEOs a push to do deals."
Japanese companies are also seeking acquisitions to reduce dependence on a domestic market with a shrinking population. They've so far ignored Prime Minister Shinzo Abe's calls to spend more in Japan, where economic growth has stagnated for two decades.
Record Cash
The nation's economy expanded an average 0.9 percent annually in the twenty years through 2013, compared with 2.6 percent for the U.S. and 1.7 percent in Europe, according to data compiled by Bloomberg.
Cross-border dealmaking slowed 54 percent last year as executives waited to see the impact of the government's monetary easing policies, known as Abenomics, said Toshiyuki Mitsuzawa, head of cross-border M&A at Frontier Management Inc. That came after overseas acquisitions by Japanese purchasers rose to a record $104 billion in 2012 as companies sought growth abroad in the wake of the March 2011 earthquake. The biggest was SoftBank Corp.'s agreement to buy Sprint Corp. for $23 billion, a deal completed last year.
Japanese companies' cash holdings increased to a record 224 trillion yen ($2.2 trillion) in the three months ended September, according to the Bank of Japan. Average debt levels for members of the country's benchmark stock index fell to 112 percent of total equity as of their latest half-year filings, down from 195 percent a decade earlier, data compiled by Bloomberg show.
'Swift Moves'
"Once a target is out there for sale, Japanese firms are now making swift moves, much quicker than before," said Yasuhide Yajima, chief economist at NLI Research Institute in Tokyo. "Their improved bottom line is making their decision-making process faster."
SoftBank billionaire founder Masayoshi Son has been considering an acquisition of T-Mobile US Inc., people familiar with the situation have said. This month, Son vowed to start a "massive price war" if U.S. regulators allow a combination of Sprint and the nation's fourth-largest wireless carrier. That's after Deutsche Telekom AG CEO Timotheus Hoettges said March 6 that T-Mobile can go it alone for now thanks to a recovering economic outlook.
Consumer companies are leading the acquisition charge on concerns a sales-tax increase in April will further damp domestic spending. The Japanese economy is forecast to shrink an annualized 3.5 percent in the quarter starting April, when the sales tax will rise to 8 percent from 5 percent, according to a Bloomberg News survey of economists earlier this month.
Global Crown
Fast Retailing, led by billionaire Tadashi Yanai, has made acquisitions including the Theory clothing line and California-based jeans maker J Brand as it seeks to become the world's biggest clothing retailer. Its talks for J. Crew, which could be valued at as much as $5 billion, are still at an early stage and may not result in a deal, according to the people familiar with the matter. Fast Retailing spokesman Aldo Liguori declined to comment on the acquisition talks.
Japan's economy grew at less than half the forecast pace in the fourth quarter, adding to pressure on companies to reduce reliance on domestic demand. They're seeking deals abroad even as the weakened yen makes such purchases more expensive, Bain's Okuno said.
New Markets
Kirin Holdings Co., the country's biggest beverage maker, is seeking more acquisitions after domestic beer shipments fell in 2013 for the ninth straight year. It would be interested in raising its stake in San Miguel Brewery Inc., President Senji Miyake told reporters Feb. 13. San Miguel Corp.'s majority stake in the Philippines's largest brewer could be worth about $6 billion, according to President Ramon Ang.
"Japanese firms are thirsty for well-established global brands in North America and Europe," Frontier Management's Mitsuzawa said. Kirin spokesman Hajime Kawasaki said the company will consider deals.
Japan Tobacco, which bought Belgium's Gryson NV for 475 million euros ($661 million) in 2012 to increase sales of roll-your-own tobacco, is seeking more acquisitions to expand in new markets, spokesman Dmitry Krivtsov said by telephone. It could seek to acquire established Western brands to promote in faster-growing emerging markets, said Naomi Takagi, a Tokyo-based analyst at UBS AG.
Krivtsov declined to comment on specific targets.
Loan Demand
Japan's well-capitalized megabanks have helped spur the overseas push with their willingness to lend for deals. SoftBank has already received assurances from banks about financing for a potential T-Mobile acquisition, people with knowledge of the matter said in January. Suntory's purchase of Beam was supported by a $12.5 billion bridge loan facility from Bank of Tokyo-Mitsubishi UFJ Ltd.
"The megabanks have reduced their pile of bad loans stemming from the burst of the so-called bubble economy," said Yoshinobu Yamada, a Tokyo-based analyst at Deutsche Bank AG. "They now have no problem at all lending massive amounts for M&A."
The banks, buffeted by the lowest interest margins in Asia, are seeking their own deals. Mitsubishi UFJ Financial, the nation's largest lender, is studying acquisitions in the U.S. as it seeks to become one of the top 10 banks there, according to people familiar with the matter.
Demographic Changes
The bank would "seriously consider" acquisitions in Indonesia and the Philippines, Deputy President Masaaki Tanaka said in a Feb. 26 interview in Hong Kong. In December, it completed the purchase of a $5 billion controlling stake in Thailand's Bank of Ayudhya Pcl. Mitsubishi UFJ spokesman Kazunobu Takahara declined to comment.
The average bank lending rate has declined over the past two decades and stood at 0.887 percent in January, near last year's all-time low of 0.821 percent and down from 4.04 percent in October 1993, according to Bank of Japan data.
"Big demographic changes and the bleak economic outlook are weighing down on Japan Inc., even as it regains its financial stamina after years of patient management," Frontier Management's Mitsuzawa said. "You'll see deal after deal this year and next."
Before it's here, it's on the Bloomberg Terminal.
LEARN MORE