Janet Yellen's Rookie Mistake: Speaking Too Clearly
By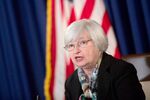 Janet Yellen may have just committed the first substantial blunder of her chairmanship of the Federal Reserve. The mistake: being specific when the occasion called for generality. "The more experienced [Ben] Bernanke knew to avoid clarifying deliberately vague statement language," Michael Feroli, chief U.S. economist at JPMorgan Chase, wrote in a client note after the financial markets reacted badly.
Investors are dying to know when the Federal Reserve will start raising its target for the federal funds rate, which has been stuck on the floor at zero percent to 0.25 percent since December 2008. The Fed has repeatedly refused to be pinned down. In its statement today, for example, the rate-setting Federal Open Market Committee (FOMC) said "it likely will be appropriate to maintain the current target range for the federal funds rate for a considerable time after the asset purchase program ends [emphasis added]."
At her first press conference since becoming Fed chair in February, Yellen was asked what the Fed meant by "a considerable time." The correct answer to this question is, "We weren't specific for a reason. Go away." Yellen, having been connected with the Fed in one capacity or another for most of the past 20 years, should have known that. Instead, she said, "You know, this is the kind of term it's hard to define, but, you know, it probably means something on the order of around six months or that type of thing." That was a bit quicker than markets had been expecting, so interest rates rose and stocks fell. The comment "sent equity markets into something of a tailspin," wrote Paul Ashworth of Capital Economics.
Michael Wallace of Action Economics in Colorado called Yellen's specificity a "gaffe." He wrote that Yellen made "the mistake of 'taking the bait' and providing a time reference for the purposefully ambiguous phrase." It wasn't the only factor in the market selloff today—new economic projections by members of the FOMC were also a factor—but it did make a difference.
It's a fair bet that other FOMC members will be suggesting to Yellen that she stick closer to the script next time she addresses reporters.
Before it's here, it's on the Bloomberg Terminal.
LEARN MORE