Is This the End for JPMorgan's Blythe Masters?
by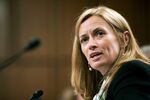 Today JPMorgan Chase announced that it will sell its physical commodities unit to Mercuria Energy Group, ridding itself of a source of controversy and potential regulatory troubles and bringing in $3.5 billion in cash. The Dodd Frank-Volcker Rule and the Federal Reserve were both threatening to make owning and trading commodities more problematic for banks, and further regulatory issues are the last thing JPMorgan needs right now.
"Our goal from the outset was to find a buyer that was interested in preserving the value of JPMorgan's physical business," Blythe Masters, head of the company's commodities operations, said in a statement. "Mercuria is a global leader in the commodities markets and an excellent long-term home."
The deal means that America's largest banking conglomerate will no longer be in the business of holding physical oil and gas and storing aluminum, copper, and steel with the aim of making money trading those commodities. What is less clear is what the transaction means for Masters, who has long been one of JPMorgan's highest-profile and most controversial executives.
Masters became (in)famous for her role in creating credit default swaps, which she developed at JPMorgan in the 1990s. Their abuse helped trigger the 2008 financial crisis, leading CNBC, in October 2009, to refer to her as "the woman behind financial weapons of mass destruction." Perhaps because she worked in complex, highly-profitable areas of finance, turmoil continued to follow Masters through her career.
As Bloomberg Businessweek's Paul M. Barrett outlined in this profile: "It's turning out that 2013 is Masters's rockiest year yet. In the spring the New York Times reported on a confidential memorandum in which investigators for the Federal Energy Regulatory Commission alleged that Masters made 'false and misleading statements' under oath about electricity-trading improprieties. The FERC memo described 'manipulative schemes' devised by Masters's underlings that purportedly transferred $83 million from California and Michigan ratepayers to JPMorgan's coffers."
Masters denied the accusations, and JPMorgan Chief Executive Officer Jamie Dimon has remained fiercely loyal, both inside the bank and externally. "Blythe is an outstanding individual and has done an impressive job at our firm over many years," Dimon told Barrett through a spokesperson. JPMorgan settled the FERC case last July by agreeing to pay $410 million, without admitting or denying culpability.
Mercuria, based in Geneva, was founded in 2004 by two former roommates and Goldman Sachs alumni and grew to become the world's fourth-largest commodity trader, taking in $100 billion in revenue in 2013. (More details are likely to be found in my friend Kate Kelly's forthcoming book, The Secret Club That Runs The World: Inside the Fraternity of Commodity Traders).
Masters was centrally involved in negotiating the sale of her employer's commodities unit, and she "will now turn to conversations with Mercuria about whether she and her managers will join the buyer," according to Bloomberg News. Masters declined to comment on her plans.
Before it's here, it's on the Bloomberg Terminal.
LEARN MORE