D.C. Art Patron Rebuilds a Bolder Collection After a Fire
By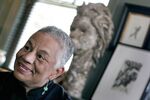 It's been almost five years since a fire destroyed Peggy Cooper Cafritz's Washington home and, with it, one of the country's largest private collections of African and African American art. Among the more than 300 pieces that went up in flames were works by such important American artists as Kara Walker, Carrie Mae Weems, and Kerry James Marshall, as well as Nigeria's Yinka Shonibare and Ghanaian sculptor El Anatsui. (Here's a slide show of some works published shortly before the July 2009 fire.)
Cafritz, a former head of the D.C. Board of Education, has worked to build a new collection. It hasn't been easy for the art patron. Along with finding a new home, she has had to cope with a tax lien that was later lifted, a secretary who embezzled cash, and emergency gallbladder surgery that left her in a coma for 10 days. All of it accompanied by back pain so intense that Cafritz grimly jokes, "I'm even thinking of amputating my back and putting my head on my thighs." At the same time, the beloved Duke Ellington School of the Arts that she co-founded 40 years ago has been sorely in need of renovation, a cause that got a great boost last week when Sting and Paul Simon performed a concert that raised $1.2 million.
All this might help explain why Cafritz has amassed what she considers to be "a more daring" collection of art this time around. Who has caught her eye? Established artists such as Barkley L. Hendricks, Simone Leigh, Kerry James Marshall, and Iona Rozeal Brown are in her new collection. But Cafritz says her primary focus has been on collecting newer, younger artists such as Eric Mack, LaToya Ruby Frazier, Nathaniel Mary Quinn, Abigail DeVille, Mark Thomas Gibson, Alexandria Smith, and Njideka Akunyili.
"You can't go forward in the same way," she says. "I'm a little more determined to help the artist that I do collect." If so, that strategy seems to be working—Nigerian-born Akunyili is getting a lot of attention right now.
For Cafritz, an artist's personal story is always part of the picture. Quinn, for one, grew up in one of Chicago's poorest neighborhoods and earned a scholarship to Culver Military Academy. At 15, his mother died, and he came home to find that his father and four adult brothers were gone. Now in his early 30s, the rising Brooklyn artist never saw them again. "You can see the incredible emotion in his work," says Cafritz.
For Quinn, whose work has been featured in several shows lately, the emotion for Cafritz runs strong. When approached about her, it's clear Cafritz is more than a customer. "I have so much respect and adoration for Peggy," Quinn says. The artist says his patron reminds him of his mother, both sharing "an inexhaustible passion for making unlimited sacrifices."
Before it's here, it's on the Bloomberg Terminal.
LEARN MORE