An IPO for Billboards: 19th Century Tech, Premium Price
by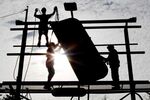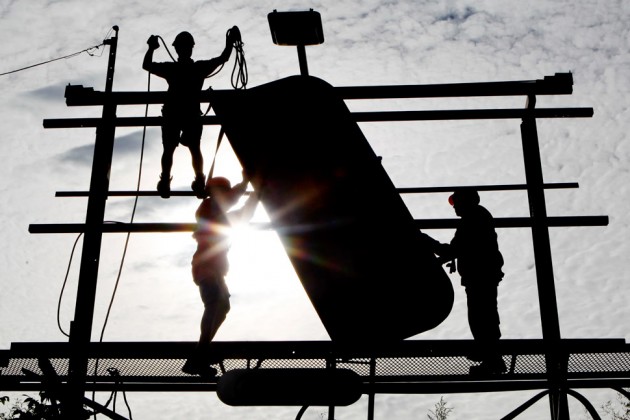 Nothing demonstrates localized, targeted marketing quite like a giant sign looming over a roadway. As Silicon Valley rushes a bunch of half-baked, unprofitable businesses to Wall Street, CBS is hawking a hunk of its billboard unit—an old-fashioned advertising technology with state-of-the-art profits.
Here's the company's pitch to investors: "Our displays are ALWAYS ON and cannot be turned off, skipped or fast-forwarded." Unlike, say, CBS TV shows. A bit corny, maybe, yet a sound point. Last year the billboard division made an 11 percent return on $1.3 billion in revenue. Google and Facebook did better, but that profit margin beats more than half of the Standard & Poor's 500-stock index, including Comcast, General Electric, and Verizon.
The model is quite simple. CBS Outdoor rents out about 330,000 billboards and "transit posters" in the U.S. and another 26,000 or so in Canada and Latin America. It owns most of the infrastructure and generally leases the land on which its billboards stand. New York is its biggest market, accounting for 17 percent of sales, followed by Los Angeles.
There is technology in the space—namely, digital billboards—but CBS hasn't been too urgent about adopting these outside of New York's Times Square. Fewer than 400 of its displays are digital. Why bother when nearly all of the country's biggest advertisers are already in its book of clients, including AT&T, Diageo, Disney, McDonald's, and Sony.
The problem with the business is its growth prospects. Slow and steady are the most accurate descriptions, and there's plenty of competition. But the challenges to growth are also valuable protections. Three out of every four CBS billboards are "legal nonconforming," meaning they would not allowed to be built under current laws—a grandfather clause that preempts open competition.
Think about that for a minute. Imagine if the rules of the Internet precluded another Facebook or put a cap on how many search engines could show up in your toolbar. In markets where billboard space is saturated, all CBS has to do is keep renewing its leases and keep ratcheting up prices.
Of course, CBS knows its billboard business is sweeter than it might appear. In a filing this week the company said it will sell 20 million shares for $26 to $28 apiece, which would value the company at about $3.36 billion. In terms of sales and profits, that's richer than both Omnicom and Publicis Groupe, two of the biggest advertising companies in the business.
Before it's here, it's on the Bloomberg Terminal.
LEARN MORE