A Long, Frustrating Search for Dark Money in Utah Politics
By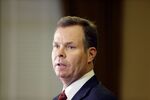 A 214-page report from Utah's state legislature has exposed the murky world of hidden campaign contributions, known as dark money. The report was prepared by a special investigative committee in the Utah House, which alleges that the state's Republican former Attorney General John Swallow used a complex network of political action committees, or PACs, and nonprofits with the goal, in the report's description, of "laundering" campaign contributions to hide donors from public scrutiny.
It's a detailed piece of investigative work, full of frank e-mails that show how Swallow interacted with donors, particularly in the payday loan industry. But the most remarkable thing about the evidence may be that it was uncovered at all. The hurdles faced by the Utah investigators are a case study of how difficult it's become to figure out where political candidates get their money.
Swallow resigned in November, maintaining his innocence and saying the inquiry was "calculated to drive me from office." After he stepped down, the committee wrapped up the investigation, and in two days of hearings in December and a final report made public on March 12, the investigators detailed what they called a play-to-play environment that led Swallow to collect more than $450,000 in hidden money from payday lenders.
Less than two weeks after Swallow was sworn into office in January 2013, the Salt Lake Tribune published a bombshell report of allegations in a secretly taped conversation between Swallow and a donor at a Krispy Kreme. The donor, an indicted businessman, can be heard on the tape talking about an alleged bribe of a U.S. senator that the businessman said Swallow had arranged—a claim Swallow denied. The two also discuss whether there was a paper trail that showed Swallow had spent time on the businessman's houseboat. That set off a flurry of additional newspaper stories, most notably in the Tribune and City Weekly, exposing questionable deals between Swallow and several high-risk companies, including online gambling and multilevel marketing firms.
The stories put pressure on the government to act. In May, the Utah Lieutenant Governor's office hired an outside law firm, Snell & Wilmer, to investigate possible election law violations, and the firm eventually found several problems with Swallow's disclosures. More broadly, the Republican-led legislature faced calls even from within the Republican Party to impeach Swallow. The legislature instead decided to first investigate what happened before determining whether impeachment was appropriate, according to state Representative Jim Dunnigan, who chaired the Investigative Committee that the House created in June.
The committee hired a team with experience in similar scandals, selecting Steven Reich, a former Justice Department prosecutor now at Akin Gump, as outside counsel, and the Mintz Group as the lead private investigators. The pair had previously worked together on the Connecticut House investigation into then-Governor John Rowland, who resigned during the probe and ultimately pleaded guilty to a federal corruption charge. The committee also hired a Utah-based team at Lindquist & Associates to provide local investigative expertise. Armed with subpoena power, they interviewed about 165 witnesses and reviewed tens of thousands of documents. Dunnigan says they also coordinated with a separate investigation by the FBI, which was working with local prosecutors. All told, the investigation cost about $4 million.
The inquiry was hampered by what the committee alleges was a concerted effort by Swallow to destroy and fabricate evidence. They allege that Swallow created fake entries in his calendar to make it look like he performed consulting work in exchange for payments he got from a payday lender. Investigators also sought evidence from the digital devices Swallow used over the course of his time working in the AG's office. They found that of his devices—a home computer, several work computers, a personal cell phone, two work cell phones, a work iPad, a campaign iPad, and an external hard drive—each was either lost, crashed, or had missing data. "We'd find out there was an additional device, and then we couldn't get our hands on it," says Dunnigan.
After an expert hired by Swallow's attorney couldn't recover data on the home hard drive, the investigators hired their own forensic analyst, who only recently was able to recover 99 percent of the data at a cost of about $100,000, according to Dunnigan. He says it revealed an additional 1,800 e-mails related to the case, many of which draw key links between Swallow and various donors and campaign entities. For example, one newly uncovered e-mail includes a fundraising spreadsheet that tracks which donations made at a fundraiser were earmarked for different political committees and a nonprofit social welfare organization.
More evidence could still be hidden. Several of the political organizations either fought or didn't respond to subpoenas. Out of expediency, the committee didn't litigate to force the PACs to comply, a move they could potentially have pursued had Swallow not resigned.
Swallow's attorney, Rodney Snow, did not respond to a request to comment, but in a letter to the House committee (PDF), he maintained Swallow's innocence, saying "the suggestion the AG Office was for sale is absolutely false." He also wrote, "To suggest there was some nefarious plot afoot to destroy potential evidence for a committee many months before it was established is simply untrue and patently unfair."
"It cost Utah's taxpayers millions of dollars to get at the truth of what happened here," says Reich, the special counsel on the investigation. "The facts were hidden and not in plain view. Without the committee's subpoena power and commitment of resources, we never would have uncovered the true story."
While the House investigation has concluded, its findings and evidence were shared with an ongoing criminal investigation run jointly by Salt Lake County District Attorney Sim Gill and Davis County Attorney Troy Rawlings. Gill says they are working with the FBI on an investigation that's even broader than the House committee's. Recently released warrants from their ongoing probe seek to collect additional evidence on Swallow and several donors and other associates. Gill says they need another three to six months, if not longer, to build cases "robust" enough to bring criminal charges. Against whom exactly, he won't say.
Before it's here, it's on the Bloomberg Terminal.
LEARN MORE