A Wholesome NFL Now Wants $16 Million for M.I.A.'s Middle Finger
By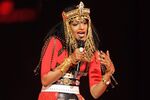 Chances are you recall the 2004 Super Bowl "wardrobe malfunction" that flashed a bit of Janet Jackson and sent aftershocks all the way to the Supreme Court. The middle finger of pop star M.I.A. seen during the 2012 Super Bowl broadcast hasn't quite seized the public imagination in the same way, but the National Football League certainly hasn't let it go.
More than two years later, the league has redoubled its efforts to extract financial compensation from the singer for her bird-flipping cameo during a halftime show performance with Madonna. The performer, whose real name is Mathangi "Maya" Arulpragasam, also appeared to sing "I don't give a s-‍-‍-" during a two-minute rendition of the song Give Me All Your Luvin'. The NFL initially sought $1.5 million from M.I.A., alleging that her actions damaged the league's reputation and goodwill, before upping the ante during arbitration last month with an additional request for $15.1 million in restitution.
The NFL based its new sum on what it considers the value of the exposure M.I.A. received by appearing in the halftime program; she was not paid for the performance, in keeping with Super Bowl custom. Last fall, in a video interview, M.I.A. called the legal action "a massive display of powerful corporation d-‍-‍- shaking. They want me on my knees and say sorry so they can slap me on my wrist."
The league has no comment on the case, but M.I.A.'s team isn't keeping quiet about the latest legal salvo. "The NFL has more money than God, and they seem to be really intent on punishing this woman," says Los Angeles attorney Howard King, who represents the singer. The case gives King ample opportunity to skewer the NFL's reputation. "At its core, NFL's claim is founded upon the false assertion that NFL has a wholesome reputation, that its goodwill has been damaged, or that it … somehow has been damaged," he wrote in a legal response filed last week: It's a pretty fun read.
First on a long list of provocative performances King cites is the 1993 Super Bowl in which Michael Jackson "repeatedly grabbed or fondled his genitalia, especially while he sang Billie Jean." The attorney dubs this the league's "first foray into salacious performances" for the vaunted halftime show and charges that football officials would have known full well that crotch-grabbing would be featured in the broadcast because it was a famous part of Jackson's act. "[D]iscovery likely will demonstrate NFL even observed such behavior in rehearsal," King writes, "without any admonishment to Jackson to desist."
And then came Prince at the 2007 Super Bowl: He fondled his guitar, King writes, "as if stroking an erect oversized phallus in a manner reminiscent of Jimi Hendrix performances where he fondled his guitar's neck." The filing also cites the dancers who accompanied Madonna at the 2012 show for engaging in thrusting moves "in a manner unmistakably evocative of sexual acts (very probably qualifying as 'indecent' under the FCC definition), or at the very least, in a manner wholly consistent with the scenes a faire in a strip club."
King says neither NBC, which broadcast the 2012 Super Bowl, nor the halftime show sponsor, Bridgestone, has submitted any complaints or comments about M.I.A.'s performance.
Part of the defense strategy, one would think, is that the NFL may not want to have a public dissection of the wholesomeness its public image may project. Far more renowned than M.I.A.'s middle finger are, say, the murder charge faced by former Baltimore Ravens linebacker Ray Lewis or the graphic threats made by Miami Dolphins guard Richie Incognito against his teammate. Halftime extravaganzas are hardly the only arena in which the league's wholesomeness has been damaged.
King also promises to look at years of NFL video for how often players and coaches have been recorded using profane language and making off-color hand gestures. He declined to reveal how much M.I.A. has spent on the case but said that the NFL did not cover her expenses after the game. "I don't think she even got her plane ticket," he says. "It was personal from the minute it happened."
Before it's here, it's on the Bloomberg Terminal.
LEARN MORE