One-Fifth of U.S. Teens Say Designated Driver OK to Drink
Zachary Tracer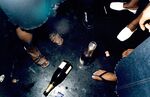 U.S. teens recognize the importance of using a designated driver to get home. The problem is, that person isn't always sober.
About one in five adolescents say it's fine for their driver to have some alcohol or use drugs, as long as that person isn't too impaired to drive. Four percent just pick the least inebriated person to take them home, Liberty Mutual Holding Co. and a safety group found in a survey released today.
Teens "seem to think that unless they're really falling-down drunk, that it's OK for them to drive," David Melton, managing director for global safety at Liberty Mutual, said in a phone interview.
The insurer and Students Against Destructive Decisions are calling attention to risky behaviors by young people. One in 10 teens who claims to never drive while under the influence of alcohol admits to taking the wheel after having a drink, according to Boston-based Liberty Mutual.
More than 10,000 people were killed in collisions involving drunk drivers in 2012, accounting for 31 percent of all car-crash deaths that year, according to the National Highway Traffic Safety Administration. The driver was intoxicated in about 18 percent of fatal crashes involving motorists ages 16 to 20, the data show.
Designated drivers are supposed to abstain from alcohol. A separate study of bar patrons last year found that about 40 percent of designated drivers consumed some booze.
The legal drinking age in the U.S. is 21. The survey by Liberty Mutual, the No. 3 U.S. seller of homeowners' coverage, was taken in 2013 by 2,537 students in 11th and 12th grades, who are typically under that age.
Drinking-aged drivers with a blood alcohol concentration above .08 grams per deciliter are considered alcohol-impaired in the U.S. Motorists who've had some booze, while remaining below that threshold, accounted for 5 percent of fatal crashes, the NHTSA said.
"Long before you're at .08, you're definitely impaired in terms of your judgment," Melton said. "You may not be over the legal limit, but you are driving with a buzz on and that's not a good thing."
Before it's here, it's on the Bloomberg Terminal.
LEARN MORE