Obama's Ignore-Congress Strategy Is Driving Democratic Despair
By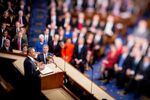 Over the weekend, the Democratic establishment hit the panic button over the party's worsening prospects for holding onto the Senate after November. The causes are many: President Obama's approval rating is stuck well below 50 percent; the Affordable Care Act is motivating Republican opponents more strongly than Democratic supporters. Last week, after a Republican candidate won a special election in Florida's 13th congressional district that Democrats had expected to carry, I think a further reason revealed itself—one that goes straight to the heart of Obama's latest governing strategy.
In January's State of the Union address, Obama delivered a message to Republicans: If they wouldn't cooperate to address the country's problems, he'd go around them. "America does not stand still—and neither will I," he said. "Wherever and whenever I can take steps without legislation to expand opportunity for more American families, that's what I'm going to do." The White House promised a "Year of Action" and let it be known that Obama was ready to sign a series of executive orders.
Since then, Congress hasn't done squat to address the country's problems, and Obama has been true to his word. He raised the minimum wage for federal contractors. Just last week, he ordered the Labor Department to revise overtime rules and make more people eligible for extra pay. All along, there have been plenty of doubts about the effectiveness of this strategy. The big knock on Obama back in January was that these measures wouldn't do much to move the needle. The economy is just too big, critics argued, and you can't take meaningful action to improve it without Congress.
It now seems clear that there is an additional downside to this strategy for Democrats, one that became clear last Tuesday after Republican lobbyist David Jolly won the Florida special election, in large part because 13th District Democrats didn't bother to vote.
Governing by executive order may make some sense in the context of trying to overcome Republican congressional obstructionism. But Obama's go-it-alone approach does nothing to engage the party's liberal grass roots, which—no surprise here—have decided to stay home. In a smart column entitled "The Politics of Hopelessness," the Washington Post's E.J. Dionne chides Obama for being listless, defensive, and resigned and calls on him to "lift the debate from the hopelessness and exhaustion that are turning millions of Americans away from political engagement."
That's good advice. Holing up in the Oval Office, while firing off executive orders, won't do the trick. If Obama can't find a way to energize his listless base, the bulk of his work after November will be vetoing Republican bills.
Before it's here, it's on the Bloomberg Terminal.
LEARN MORE