Myanmar Struggles to Keep Children in School
Christina Larson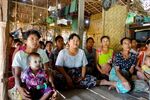 Like so many young people in Myanmar, Ko Zaw Htun left school early to find work. His family could not afford the cost of textbooks and transportation, and they needed the money he would earn with a job. Since he was 11 years old, he's been steering motorboats up and down the Yangon River, ferrying dock workers and street vendors to and fro. At age 29 he's still working the same job, from 4 a.m. to 8 p.m. daily, earning about $40 a week. Ko Zaw Htun is married, with three young children, and hopes his girls will be able to stay in school—so they can have "a better future."
According to Unicef data for 2008-12, roughly 90 percent of children ages 6 to 10 in Myanmar—previously known in the West as Burma—attend primary school. But that number drops off sharply in secondary school, which just 58 percent of adolescent boys and girls attend. U Myo Win, executive director of Smile Education and Development Foundation, a nonprofit in Yangon, says dropouts are most common in poor and rural areas. Keeping more children in the classroom will require not only state investment in schools and teachers, he says, but also "changing the poor families' economic situation."
U Naing Winn, a former chemist and small factory owner, had the same insight when he founded the Socio-Lite Microfinance Foundation in December 2011, on his 70th birthday. A successful entrepreneur and business owner himself, he adapted the basic formula for microfinance deployed in other developing countries but added the condition that all loan recipients must keep their children in school. If families cannot afford education-related costs—about $45 a year per child—the foundation offers scholarships to cover the gap.
Socio-Lite makes six-month loans ranging from $50 to $600 to micro-entrepreneurs, mostly women, in three townships of Yangon. At present, it has 7,857 outstanding loans and a 99.8 percent repayment rate. Loan recipients must attend six one-hour business workshops before any money is dispersed. During the course of their loans, recipients attend monthly community meetings to share tips or concerns. "We are educating housewives to supplement their household income by running small businesses. They should not be dependent on the men," U Naing Winn says.
At one such monthly meeting in mid-March, two dozen women packed into a little wooden house on stilts about an hour's drive from central Yangon. This was the home of Daw Myat Myat Moe, who sat cross-legged on wooden floorboards with her many guests as they shared progress reports.
Daw Myat Myat Moe, 42, buys and resells fresh seasonal fruit. Her two oldest children have already finished secondary school, and her two youngest are now enrolled. Their home is modest. The corrugated metal roof over the living room—which keeps out the monsoon rains—is a recent addition since she started working two years ago. It also makes for a cozier environment "for doing homework." She hopes her children can one day afford an even nicer home.
Before it's here, it's on the Bloomberg Terminal.
LEARN MORE