The Life and Times of a Professional Bracketologist
by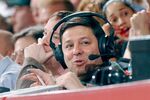 Every statistician with a working Internet connection and frustrated hoop dreams has a model for predicting the NCAA men's basketball tournament. There is only one true bracketologist.
For the past 20 years, Joe Lunardi has been trying to predict what the bracket of 64 teams will look like before the tournament's selection committee crafts the real thing. Throughout the season, he posts his latest projection on ESPN's bracketology page. It's an essential part of the website's college basketball coverage, which on the whole has drawn 289 million unique visits this season.
For Lunardi, now 53, this is a side job. "It's more like a paid hobby," he says. From April to November, bracketology requires next to nothing; in January, Lunardi spends upward of 20 hours per week. By March it's a second full-time role, alongside his day job as head of marketing and communications at Saint Joseph's University in Philadelphia. "It's whenever I'm awake," he says of the current demands of bracketology. He takes a vacation from St. Joseph's in the final week before selection Sunday, which happens to coincide with the university's spring break.
"I would equate it to an accountant during tax season or a lawyer that is in the middle of a trial," says Lunardi. "It's incredibly intense, incredibly fun, and maybe someday it will wear me out." I spoke to Lunardi by phone on Monday as he stood on a train platform as he headed from ESPN's studios in Bristol, Conn., back to Philadelphia. He hadn't slept in four days. To add to this load, Lunardi is also the color commentator for the St. Joseph's men's basketball radio broadcasts.
The bracketology job requires a strong knowledge of college basketball, for sure, but Lunardi's true specialty is the "policies and procedures" that govern the NCAA tournament selection committee. These are the rules that determine how to place a ranked field of 64 (or 68, if you count play-in games). "In my sleep, in the middle of July, if given a seed list, I could get up and produce a bracket in 15 minutes that would be exactly how they would do it with the same seed list," he says. "I'm not suggesting that this is a normal skill set. It just happens to be one that I have."
Lunardi became a bracketologist accidentally. He was trying to save himself from extra work. In 1995, as the editor of the Blue Ribbon College Basketball Yearbook, he decided to add an 80-page tournament guide to the 400-page annual guide. It was a breakneck task in the days of typesetters and late-night runs to the printer. Lunardi wanted to narrow down ahead of time the teams he and his staff would need to cover. "I started drawing up brackets on napkins," he says, "to try to produce the most accurate publication we could do in a very short turnaround time." He joined ESPN.com a year later, and his print byproduct became a core online feature.
So how much college basketball does Lunardi end up watching every season? "My wife might read this, so I'm not sure I really want to answer that," he says. Mostly he tracks the games that might affect his online projections. "If I'm doing a St. Joe's game and something happens that requires an update," he says, "during halftime and timeouts I'll be e-mailing the news desk up in Bristol, and they will be changing what's running on the bottom of the [ESPN] screen."
Before it's here, it's on the Bloomberg Terminal.
LEARN MORE