How Masters of the Universe Select Final Four Teams
By and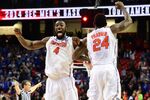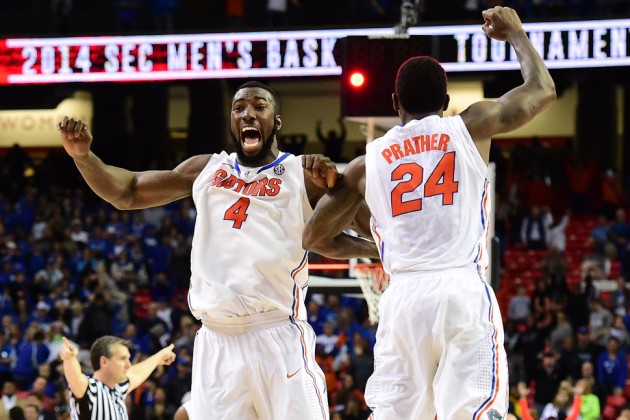 For all the things separating you from wealthy financial titans, one activity still brings you all together: filling out an NCAA March Madness bracket. What separates their picks from yours? Do their skills in managing risky investments carry over into managing risky basketball gambles?
Here are the picks:
David Tepper — Appaloosa Management
Florida (1)
Arizona (1)
Louisville (4)
Virginia (1)
Steve Kuhn — Pine River Capital Management
Florida (1)
Creighton (3)
Wichita State (1)
Iowa State (3)
Howard Marks — Oaktree Capital Management
Florida (1)
Wisconsin (2)
Wichita State (1)
Michigan State (4)
Mike Novogratz — Fortress Investment Group
Florida (1)
Wisconsin (2)
Louisville (4)
Michigan State (4)
Gary Cohn — Goldman Sachs
Florida (1)
Arizona (1)
Michigan (2)
Michigan State (4)
David Einhorn — Greenlight Capital
Florida (1)
Wisconsin (2)
Wichita State (1)
Michigan State (4)
Marc Lasry — Avenue Capital
Florida (1)
Wisconsin (2)
Duke (3)
UNC (6)
Notice the interesting selection trends. For one, they all picked Florida; the Gators are the overall No. 1 seed, and maybe the safest pick around. But because it's in every bracket, it won't be the school that differentiates anybody.  They will either all get it right, or all get it wrong. This goes back to a well-researched point that the top favorite school tends to be over-picked by the public. Florida might be the sports equivalent of a "benchmark" index or "must-have" stock. None of the managers will look dumb by picking it—even if they lose—but the risk is too high to leave it out and watch it win it all.
Two schools stand out as being undervalued by the group: Arizona and Louisville. Their representation in the above list appears to be lower than what most data scientists consider to be their chances of getting through.
In terms of the highest probability of getting it right, David Tepper's picks seem to have the best chance of making it through (according to Ken Massey's ratings). Notice that Tepper is the only person on the list to have selected three different No. 1 choices, going with the mathematically risk-minimized set of selections.
The only school on these lists ranked outside the top four is Marc Lasry's No. 6 North Carolina pick. His set of 1-2-3-6 seed choices is probably the riskiest. Of 28 total picks, 27 mark top-four seeds. That follows well with my previous article showing that the most historically common Final Four bracket is a 1-1-2-4. Three managers—Marks, Cohn, and Einhorn—selected that.
It's amazing to see the similar risk-management techniques shown by the above managers Nobody picked all No. 1 seeds, but everybody picked high seeds to make it through. Perhaps this type of risk/reward balance to consistency and volatility are why these guys have all succeeded in the financial markets.
JPMorgan Chief Executive Officer Jamie Dimon didn't specifically pick a full Final Four but has Duke going all the way, more for family reasons than anything else: Two of his children went there.
Barry Sternlicht, founder of hotel giant Starwood, picked (1) Florida, (1) Virginia, (1) Arizona, (3) Duke. He originally wanted to pick Harvard going all the way, but decided to focus on a more rational—rather than emotional—choice.
Moving further from the financial industry, Under Armour founder Kevin Plank went with (4) Michigan State, (4) Louisville, (1) Arizona, (3) Syracuse. He said "great coaching and talent wins championships." Compared to everybody above, Plank went with the most diverse set of picks: He's the only one who didn't pick Florida (going instead with Syracuse), and he's the only one to choose three teams outside the top two. Maybe this reflects something about his background as a retail entrepreneur, rather than a financial executive: You need to take more risks to stand out.
Special thanks to Bloomberg Television's Stephanie Ruhle, who gathered these picks directly from each source.
Before it's here, it's on the Bloomberg Terminal.
LEARN MORE