Venezuela Protests Lose Momentum as Maduro Toughens Response
Anatoly Kurmanaev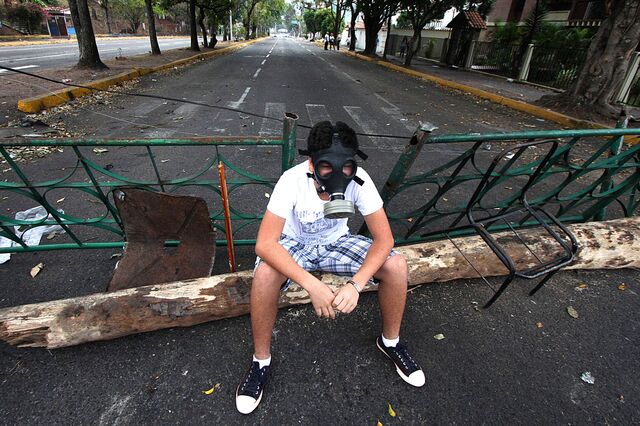 Fewer Venezuelans came out to protest against the government over the weekend after President Nicolas Maduro threatened to use the military to "liberate" middle-class districts from makeshift barricades.
A march against alleged Cuban infiltration of the armed forces attracted a few thousand people yesterday in the Caracas borough of Chacao, the heart of the monthlong anti-government protests that have taken 29 lives. Similar rallies in past weeks drew more than 10,000 people.
National Guard troops were positioned at street corners in the Caracas districts of Chacao and Altamira this morning after dispersing a few hundred protesters with tear gas and water cannons last night. Residents shouted "assassins" from surrounding apartment blocks and removed manhole covers to block the advance of Chinese-made armored trucks during the skirmishes. Altamira woke up "militarized," Chacao Mayor Ramon Muchacho wrote in a post on his Twitter account.
"Prepare yourself, we are coming for you," Maduro warned demonstrators in an address to thousands of soldiers gathered in support of the president March 15. He then played John Lennon's song, "Give Peace a Chance."
A tougher police response and fatigue from daily marches have drained some of the momentum from the protest movement, said David Smilde, senior fellow at the Washington Office on Latin America, a human rights organization.
'Repression'
"Venezuela has been experiencing a progressive criminalization of protest over the past couple of years, with repression rarely seen under Maduro's predecessor, Hugo Chavez," Smilde said by e-mail from Caracas yesterday. "As the inherent flaws of economic policies and political model" make Chavez's revolution "increasingly fragile, the government seems more willing to rely on force."
A National Guard captain was the latest fatality after he was shot last night as authorities tried to clear protesters from an avenue in Maracay, Aragua state, Governor Tareck El Aissami wrote on his Twitter account.
To reduce the shortages of goods that are fueling the protests, the central bank has said it will start a new foreign currency system this week that will allow companies and individuals to buy and sell dollars at a price determined by the market.
Central bank President Nelson Merentes said yesterday Venezuela's economy "is a crisis."
'Not Robust'
"You've got inflation, you have shortages and growth that's not robust," he said in an interview on the local Televen network. "Venezuela has the ability to overcome this not-so-good patch."
Air Canada said today it was suspending its Venezuela flights on security concerns.
"Due to on-going civil unrest in Venezuela, Air Canada can no longer ensure the safety of its operation and has suspended flights to Caracas until further notice," the company said in a statement posted on its website.
The country's economic and political instability "has resulted in onerous currency restrictions imposed on all airlines preventing them from recovering their funds from Venezuela," company spokeswoman Isabelle Arthur said in an e-mailed response to questions.
Maduro said March 14 that any airline that left the country would not be allowed to return during his term.
Lopez Rally
Opposition party Voluntad Popular called for a rally tomorrow at 10 a.m. in the central city of Los Teques to demand the release of jailed leader Leopoldo Lopez.
Lopez, who was detained on Feb. 18 and accused by the government of inciting violent protests, is being held in a military jail and is only allowed to visit with close family, his wife, Lilian Tintori, said today in an Internet broadcast.
"He's totally isolated," she said. "He's not been allowed contact with other prisoners. He's not been allowed to attend Mass. Leopoldo is strong, and he has faith."
Consumer prices rose 57 percent in the 12 months through February and the central bank stopped publishing data on shortages after last month's report showed that more than one in four basic goods were unavailable in shops at any given time.
Food Purchases
To cut down on contraband of subsidized products, Maduro said yesterday the government will issue citizens with electronic cards for food purchases in state supermarkets. The so-called Secure Supply Card is to protect the people from speculators and not a way to ration food, the president told a rally of supporters in the capital.
Opposition leader Henrique Capriles said he's ready to talk to Maduro about ending protests after boycotting at least two other meetings with the president.
"This debate needs to happen," Capriles said in a separate interview on Televen yesterday.
Opposition parties and students have vowed to continue protesting across the country until Maduro releases political prisoners, improves the supply of products and ends police repression. The president has called the protesters "fascists," charging them with attempting a "slow-motion coup" against him with help from the U.S.
Before it's here, it's on the Bloomberg Terminal.
LEARN MORE