U.S. Stocks Rise From 3-Week Low as Factory Output Jumps
Callie Bost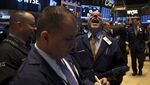 The Standard & Poor's 500 Index rose, rebounding from its worst week since January, as data showing a gain in industrial production boosted optimism over the economy and investors watched developments in Ukraine.
Yahoo! Inc. jumped 4 percent after Chinese e-commerce company Alibaba Group Holding Ltd. began the process for listing shares in the U.S. Hertz Global Holdings Inc. added 4.8 percent after a report that the company will spin off its equipment-rentals unit. Adobe Systems Inc. climbed 1.5 percent after RBC Capital Markets LLC raised the stock's 12-month price target. VeriSign Inc. tumbled 5.8 percent as Cowen and Co. analysts downgraded the shares.
The S&P 500 rose 1 percent to 1,858.83 at 4 p.m. in New York. The Dow Jones Industrial Average climbed 181.55 points, or 1.1 percent, to 16,247.22. About 5.7 billion shares changed hands on U.S. exchanges, 15 percent lower than the three-month average.
"The data helped to give some evidence to the fact that some of the weak-ish numbers were clearly evidenced by the weather," Mark Luschini, chief investment strategist at Philadelphia-based Janney Montgomery Scott LLC, which oversees $63 billion in assets, said by phone. "We may be seeing that trend fade and the better numbers are on their way."
The equities benchmark dropped 2 percent last week, the most since January, and erased its 2014 gains amid mounting tension in Ukraine and signs of an economic slowdown in China. The gauge is now 0.6 percent higher this year.
Factory Output
Factory production in the U.S. rose in February by the most in six months, indicating the industry started to recover from severe winter weather. The 0.8 percent gain at manufacturers followed a revised 0.9 percent slump in the prior month that was the biggest since May 2009, figures from the Federal Reserve showed today.
A separate gauge of manufacturing in the New York area rose less than forecast last month, climbing to 5.61 from 4.48. Analysts estimated 6.50.
The Fed begins a two-day meeting tomorrow that analysts said will see policy makers further scale back bond-purchase stimulus. The Federal Open Market Committee has cut monthly bond buying to $65 billion from $85 billion in December. Policy makers have indicated they plan to taper by $10 billion at each meeting absent a weakening in the economy.
Fed Chair Janet Yellen said last month the U.S. economy was strong enough to withstand measured reductions to the central bank's monthly bond purchases. Three rounds of Fed stimulus have helped push the S&P 500 up 175 percent from a 12-year low, as U.S. equities enter the sixth year of a bull market that started March 9, 2009.
Russia Sanctions
The U.S. and European Union slapped sanctions on Russia in the worst dispute between former Cold War foes in more than two decades after a referendum paved the way for President Vladimir Putin to annex Crimea from Ukraine.
EU foreign ministers agreed today to freeze assets and impose visa travel bans on 21 Russians, Crimeans and former Ukrainian officials. U.S. measures were aimed at the wealth of Russia's supporters, the White House said in a statement. While Western leaders left open the option of extending the sanctions, they kept more punitive steps in reserve.
"The market was bracing for potential volatility with the vote this weekend and now you're seeing a lot of unwinding," Joe Bell, senior equity analyst at Cincinnati-based Schaeffer's Investment Research Inc., said by phone. "There was a vote coming and nobody knew which way it was going to go or what would happen. There was a lot of fear."
Volatility Gauge
The Chicago Board Options Exchange Volatility Index, a gauge for U.S. stock volatility, plunged 12 percent to 15.64 today. The measure has advanced 14 percent this year.
All 10 main industries in the S&P 500 advanced at least 0.6 percent. Industrial and technology companies added more than 1.2 percent. International Business Machines Corp. rose 2 percent and 3M Co. gained 1.9 percent for the biggest advances in the Dow.
Adobe added 1.5 percent to $68.17. RBC Capital Markets analyst Matthew Hedberg increased his price target on the computer software developer to $75 from $58.
Options trading in Adobe suggests the market's infatuation with Internet stocks is alive and well. Even after a year of falling profit, calls on Adobe shares are the most expensive relative to puts in three years, according to data compiled by Bloomberg.
Yahoo, Alibaba
Yahoo added 4 percent to $39.11. The company owns 24 percent of Alibaba, which could go public in the U.S. as soon as next month, according to people with knowledge of the matter. The online store's market value is estimated at $153 billion, bigger than 95 percent of the S&P 500.
Hertz climbed 4.8 percent to $27.22. The company may announce details of the separation this week, the Financial Times reported, citing people familiar with the matter. The deal would probably value the division at about $4.5 billion, the FT said.
VeriSign tumbled the most in the S&P 500, losing 5.8 percent to $51.68. Cowen analyst Gregg Moskowitz cut the stock's rating to market perform from outperform and reduced his 12-month target price to $49. VeriSign might be negatively affected by U.S. plans to hand over control of an Internet address system, Moskowitz said.
Before it's here, it's on the Bloomberg Terminal.
LEARN MORE