New BOK Head Painted a Hawk by Bonds Before Debut: Korea Markets
Jiyeun Lee and Eunkyung Seo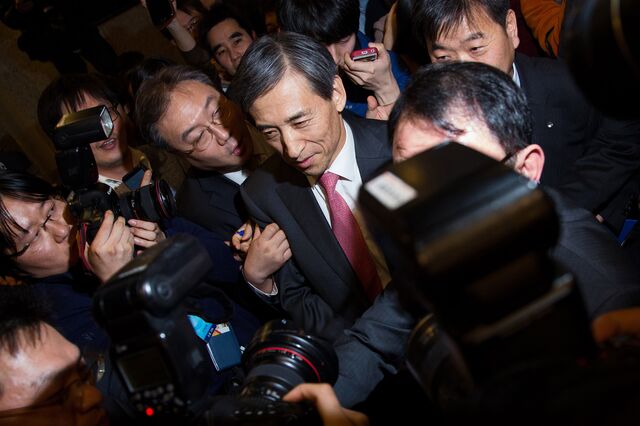 As lawmakers prepare to question the next Bank of Korea governor for the first time, the bond market has already passed judgment and labeled him a hawk.
Sovereign bonds slid the most in two months on March 3 as President Park Geun Hye named Lee Ju Yeol, a former senior deputy governor at the BOK, to succeed Kim Choong Soo. The notes were Asia's worst performers in the past month and yields snapped a five-day drop yesterday after Lee, in a response to lawmakers, said households should prepare for higher interest rates.
Investors will be looking for clarification of Lee's stance at tomorrow's testimony to parliament. When asked for guidance at a March 3 press briefing, he replied "let's see." Nomura Holdings Inc. and Barclays Plc say they expect Lee to support government efforts to spur economic growth through innovation and deregulation, while talking down the need for short-term remedies such as interest-rate cuts.
"President Park has emphasized the importance of raising potential growth, not short-term growth, through restructuring the economy," Kwon Young Sun, a Hong Kong-based economist for Nomura, said in a March 12 interview. "Monetary policy can contribute to this only by price and financial stability, and this leads to the conclusion that a rate cut is unnecessary."
Among the candidates tipped in the market as possible replacements for Kim, Lee was considered a "hawk-group" person, JPMorgan Chase & Co. wrote in a March 3 report. The bank recommended investors exit South Korea's 10-year bonds in a March 6 note, saying the nominee wasn't the "dovish" candidate it had expected.
Worst Performers
South Korea's local-currency government bonds tied those of Taiwan as Asia's worst performers of the past month with a 0.27 percent return, Bloomberg indexes show. China's debt added 0.43 percent, India's 1.02 percent and Indonesia led gains with a 4.75 percent jump.
One-year interest-rate swaps, which exchange fixed payments for the floating rate on three-month certificates of deposit, rose three basis points to 2.69 percent as Lee's appointment was announced on March 3. That was the biggest gain since July 1, according to data compiled by Bloomberg. The contract was little changed at 2.67 percent in Seoul today, after advancing one basis point yesterday.
The yield on three-year government bonds fell one basis point to 2.84 percent at the close in Seoul after rising two basis points yesterday, Korea Exchange Inc. prices show. The won depreciated 0.2 percent to 1,069.20 per dollar, extending this year's loss to 1.8 percent.
University Professor
Lee, 61, has 35 years' experience at the central bank, which he left in April 2012 when a three-year term as senior deputy governor ended. He has since worked as a professor at Yonsei University in Seoul.
South Korea's economy will expand 3.8 percent this year after growing 2.8 percent in 2013, the central bank forecast in a Jan. 9 report. President Park said in a Feb. 25 speech that the government plans to raise the potential rate of expansion to 4 percent by 2017.
"Structural and medium-term reforms are a new policy direction for the Park administration," Wai Ho Leong, a Singapore-based economist at Barclays, said in a March 12 e-mail. "If structural reforms deliver growth, that may mean less political pressure on the BOK to ease and less opposition to the idea of rate normalization."
The central bank should consider price stability and all other aspects of the economy, such as financial stability, growth and employment, when the government asks it to play a role in boosting growth, Lee said in a written response to questions by opposition Democratic Party lawmaker Kim Hyun Mee. The politician e-mailed the response to reporters on March 17.
Rate Outlook
BOK kept its benchmark interest rate at 2.5 percent at a March 13 review, unchanged since May. That was current chief Kim's last rate decision before his term ends March 31. The central bank will raise borrowing costs at least once this year, according to 13 of 26 economists surveyed by Bloomberg. Two forecast a 25 basis point cut, while the rest predicted no change.
South Korea's inflation will accelerate to 2.8 percent in the second half of 2014, back to the monetary authority's target range of 2.5 percent to 3.5 percent, after averaging 1.2 percent in the past year, the central bank forecast on Jan. 9.
"We expect the nominee to place priority on increasing the bank's credibility in managing inflation, given that underlying price pressures still persist," Ronald Man, a Hong Kong-based economist for HSBC Holdings Plc, said in a March 13 e-mail interview. "Such comments may prompt the market to price in more rate hikes within the next one to two years."
Political Pressure
The possibility of a rate cut may persist if lawmakers from the ruling and opposition parties raise the issue during tomorrow's hearing, according to Seong Kiyong, a Hong Kong-based rates strategist for Deutsche Bank AG.
"If both parties voice the need to cut rates to support growth, this may give investors the impression that the Bank of Korea is under pressure to ease monetary policy," Seong said in a March 13 phone interview. The bank views Lee as neutral in terms of rate preference, according to Seong.
Although the parliament has no power to veto the appointment, lawmakers are vowing scrutiny to judge whether Lee is the right pick to lead the monetary authority in Asia's fourth-biggest economy.
"Lee is not a big disappointment, but still falls short of expectations," Hong Jong Haak, a lawmaker with the opposition Democratic Party, said on March 13 by phone. "My question for Lee at the vetting is how he views the economy and how he will address major issues like household debt."
Nominee Lee said in the written response to lawmakers' questions that the government should help households prepare for a possible increase in interest rates, including by encouraging greater use of fixed rates.
"We expect Lee to be a traditional central bank person, holding a hawkish view on inflation, but the nominee may not reveal his thoughts in detail during the hearing," Lim Hankyu, who helps manage 12 trillion won ($11.2 billion) as the Seoul-based head of fixed-income, currency, commodities trading at Woori Investment & Securities, said in a March 17 interview.
Before it's here, it's on the Bloomberg Terminal.
LEARN MORE