Forrest Buys Fortescue as Bonds Defy Ore Bears: Australia Credit
Elisabeth Behrmann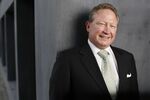 Fortescue Metals Group Ltd. Chairman Andrew Forrest added to his stake in Australia's biggest junk bond issuer, even as iron ore entered a bear market, mirroring confidence among some debt investors.
Forrest, the company's 52-year-old billionaire founder, snapped up an additional A$4.9 million ($4.5 million) of shares last week, buying some the day iron ore plunged the most since August 2009. The miner's debt dropped 0.3 percent this year, less than the 1.8 percent slump for bonds of Australian companies in the Bank of America Merrill Lynch U.S. High Yield Metals & Mining Index. The entire index has risen 1 percent.
"Their story is intact, and they've now built up a lot of credibility in the market," said Marc Gross, a money manager at RS Investments in New York who oversees $4 billion in fixed-income funds including Fortescue debt. "They did everything they said they'd do; they've paid down some debt and now that capex is coming off, they're going to be producing a lot of free cash flow."
Confidence in Perth-based Fortescue's ability to weather swings in the iron ore price has risen as it repaid $3.07 billion of borrowings early and takes steps to lower other debt costs. Even as prices of the steel-making material slide, the company's earnings are being boosted by a near tripling in its output after record investments in the Australian mining industry. The Reserve Bank of Australia is keeping interest rates at a record low and signaling its opposition to currency appreciation, seeking to spur investment and exports as demand for commodities cools.
Liquidity Profile
Fortescue announced plans to repay the $3.07 billion of debt early following strong prices, rising production and lower costs to help save more than $300 million in interest payments. The company may repay a further $2 billion of debt, Chief Financial Officer Stephen Pearce said last month.
The acceleration in debt reduction came after plunging iron ore prices in 2012 had forced Fortescue to negotiate $5 billion in new loans, announce asset sales and temporarily delay a part of its expansion program.
"The company has paid down debt, reduced cash operating costs and largely completed" spending on an expansion, said Tariq Chotani, a Sydney-based credit strategist with Commonwealth Bank of Australia. "Fortescue's liquidity profile is strong."
Iron ore plunged last week as concern Chinese economic growth will slump exacerbated the pressure on prices that have declined 18 percent this year amid rising global supplies. China buys about 60 percent of seaborne iron ore.
Price Forecasts
The Asian nation's efforts to rein in excessive credit growth and its high stockpiles of the material helped drive the rapid change of sentiment last week, said Andrew Harding, who heads the iron ore unit at Rio Tinto Group, the world's second-biggest iron ore shipper.
Australia's dollar, the world's fifth most-traded currency, traded at 90.91 U.S. cents as of 11:55 a.m. in Sydney after declining 0.4 percent to 90.28 last week. It will drop to 86 cents by year-end, according to forecasts compiled by Bloomberg.
The Aussie has declined 13 percent in the past year as the nation's central bank cut benchmark rates to 2.5 percent and signaled that a weaker currency was needed to move growth away from a dependence on mining investment.
"The decline in the exchange rate seen to date will assist in achieving balanced growth in the economy, though the exchange rate remains high by historical standards," RBA Governor Glenn Stevens said in a statement March 4.
The central bank said it saw more signs record-low rates were boosting growth, and reiterated a period of steady borrowing costs was likely, according to minutes of its last meeting release today.
Income Surge
BHP Billiton Ltd., the world's biggest miner, and Rio predict lower prices this year after producers spent billions of dollars to expand output. Banks from Citigroup Inc. to Standard Chartered Plc forecast a surplus, and Goldman Sachs Group Inc. listed iron ore among its least-preferred commodities for 2014. Credit concerns in China may have helped to amplify volatility in prices, according to Jimmy Wilson, BHP's head of iron ore.
Iron ore fell 8.3 percent to $104.70 a ton on March 10, the lowest since October 2012. The slump dragged Fortescue's stock price down 9.4 percent that day, the most since September 2012. Iron ore recovered to trade at $109.60 a ton yesterday. Fortescue's break even price is $72 per dry ton, according to UBS AG.
Fortescue's net income is forecast to double to $3.5 billion in the 12 months through June 2014, according to data compiled by Bloomberg. Profit during fiscal 2015 may be $3.2 billion, the data show.
Output Climbing
The boost in earnings comes as the company nears completion of a $9.2 billion expansion of mines, rail and port facilities in Australia's Pilbara region to almost triple output to 155 million metric tons annually. It has also cut production costs by 35 percent over the past year to $32.99 a ton.
Fortescue is expected to redeem a $900 million 2018 bond at its first call date next month, said CBA's Chotani. A further $1 billion of 2017 bonds may also be paid back in April next year "without materially impacting its liquidity profile," he said.
"Fortescue had a huge benefit during the last half of last year from the iron ore price remaining high," said Chris Walter, a Sydney-based credit research analyst with Westpac Banking Corp. "They may not repay the debt as quickly as we might have thought a month ago, they'll still get it paid down relatively quickly."
Before it's here, it's on the Bloomberg Terminal.
LEARN MORE