EU Adopts Sanctions on Russians After Crimea Referendum
James G. Neuger, Stepan Kravchenko and Henry Meyer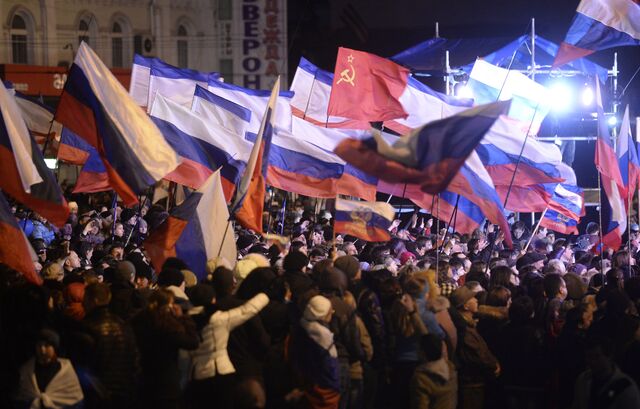 The European Union imposed sanctions on 21 individuals amid the worst diplomatic standoff with Russia since the Cold War after a referendum paved the way for President Vladimir Putin to annex Crimea.
The measures are "targeted sanctions against responsible Russians," Danish Foreign Minister Martin Lidegaard said in a Twitter post after a meeting with his counterparts from the rest of the 28-nation bloc in Brussels today. The sanctions include travel-visa bans and asset freezes, an EU official said. The list of those targeted wasn't disclosed.
The move came after Crimean lawmakers set in motion measures for the Black Sea peninsula to leave Ukraine and join Russia following yesterday's plebiscite. Crimean and Russian officials said the incorporation of the region could be completed by the end of the week. Ukrainian lawmakers approved plans to mobilize an extra 20,000 reservists and conscripts because of concern that Russia may try to send troops into the east of the country.
The Brussels meeting marked the opening round of sanctions by western countries designed to punish Russia for its actions so far and to deter any further encroachment into Ukrainian territory.
Before it's here, it's on the Bloomberg Terminal.
LEARN MORE