China Returns 2 Suspects in Stabbing of Ex-Editor to H.K.
Joshua Fellman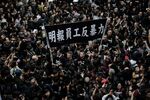 The police department of southern China's Guangdong province yesterday sent back to Hong Kong two people arrested in connection with the stabbing of Kevin Lau, the former chief editor of the city's Ming Pao Daily News.
The two Hong Kong residents, both 37 years old, are suspected of fleeing to mainland China after the attack on Lau in Hong Kong last month, according to a statement posted on the city government's website yesterday.
Hong Kong doesn't have a formal agreement with mainland China on the rendition of criminal suspects, so city police relied on the cooperation of Guangdong's Public Security Department and China's Ministry of Public Security to detain and return the individuals, according to the statement.
Thousands of people took to Hong Kong's streets on March 2, demanding the police step up efforts to catch the attackers who critically injured Lau, voicing concern that the city's press freedom is being eroded. Lau was recently removed from the top editorial role at Media Chinese International Ltd.'s Ming Pao.
Hong Kong police said last week that 11 people were arrested in connection with the Feb. 26 attack, including the two suspects sent back from the mainland yesterday. Hong Kong police detained nine people locally.
Lau was slashed by an attacker with a meat cleaver as he got out of his car near a restaurant in Sai Wan Ho in the eastern part of Hong Kong Island. The attacker then rode off with another man on a motorbike, according to pictures from surveillance cameras near the site of the attack.
Journalism Ties
In yesterday's statement, the police said that while they still have no direct evidence that the attack on Lau was related to his journalistic work, they continue to investigate and aren't ruling out any possibilities.
Ming Pao was a partner of the International Consortium of Investigative Journalists on a reporting project that showed how billionaires and the families of China's political leaders were using offshore tax havens. The Chinese-language newspaper, founded in 1959, is one of the main dailies in Hong Kong.
The newspaper last year won a prize from the Society of Publishers in Asia for its stories on the illegal structures found at the homes of Hong Kong Chief Executive Leung Chun-ying and former No. 2 official Henry Tang.
Before it's here, it's on the Bloomberg Terminal.
LEARN MORE