Ahead of the Alibaba IPO, Founder Jack Ma Goes on Deal Spree
By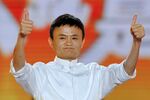 China's biggest e-commerce company is going public. With a valuation that could reach $200 billion, Alibaba could be the second-largest Internet company in the world, behind only Google. Like his American counterparts, founder Jack Ma and his team are moving quickly to solidify Alibaba's position as a conglomerate with broad reach in China's booming entrepreneurial economy. Less EBay, more Amazon. "This company in the next five years will be totally different," Ma said in a 2012 interview with Bloomberg Businessweek. "We want to build up a company in Chinese history that nobody has seen before."
In the first three months of the year, Ma has been making deals at a pace that would make Marissa Mayer look lazy. Many but not all of them are aimed squarely at rival Tencent, currently considered Asia's largest Internet company. Earlier this month, Alibaba announced it would spend HK$6.24 billion ($804 million) to take a controlling stake in ChinaVision Media, a Hong Kong-listed company that, among other things, owns the Chinese rights for mobile TV broadcasts of English Premier League soccer. This deal is a twofer: It gives Alibaba a massive library of movies, TV shows, and sports broadcasts, while keeping that programming out of Tencent's hands.
Alibaba has also invested aggressively in gaming and instant messaging, two services that hadn't been central to Ma's vision for Alibaba until late last year. In January, Alibaba's new president for digital entertainment told Bloomberg News the company will launch a platform to host mobile games. This follows Alibaba's introduction of a messaging service, Laiwang, to compete with Tencent's WeChat.
So far, Laiwang hasn't managed to put much of a dent in WeChat, even though last year the boss ordered Alibabans to use it. Alibaba has another card to play, with its 18 percent stake in Sina Weibo, China's leading microblogging service. Weibo, which has 129 million monthly active users, is now in the process of raising $500 million in a U.S.-based IPO, and Alibaba is picking up its option to increase its ownership to 30 percent, according to a March 14 regulatory filing. For Weibo, the alliance with Alibaba could help it compete against WeChat and vice versa.
Ma has also announced plans to take control of China's most popular mobile mapping service, AutoNavi, a Beijing-based company with about 77 million active users as of the end of the third quarter. Alibaba already owns 28.3 percent of the company, which claims 31 percent of the market, ahead of Baidu (27 percent) and Google (7.6 percent), according to the company. In February, Alibaba made an offer to buy the rest of AutoNavi at a 27 percent premium.
Alibaba has also recently taken a stake in the electronics and logistics arms of the Haier Group, China's largest maker of appliances. Today it signed an agreement with white goods company Midea Group, which will sell its first intelligent air conditioners on Tmall.com starting Wednesday.
Even the deals that don't work out speak volumes about Alibaba's ambitions. The company wanted to work with China Citic Bank to offer virtual credit cards, a move that would have enabled consumers buying products from Alibaba's Tmall and Taobao to make purchases easily with their smartphones. That plan is on hold for now. The People's Bank of China, the country's central bank, has ordered a freeze on the plan, the Xinhua News Agency reported on Friday. However, the central bank's move wasn't all bad news for Alibaba: The freeze also affects Tencent, which had similar credit card plans.
Meanwhile, Alibaba is branching out into other financial services. Building on the success of Alipay, the company's online payment system, Alibaba announced on Thursday that its Small and Micro Financial Services division will launch a principal-guaranteed mutual fund with New China Fund Management. Deposit accounts appear to be on the horizon, as does lending: Small and Micro Financial Services is also applying for a banking license.
Before it's here, it's on the Bloomberg Terminal.
LEARN MORE