Good News: The Government Will No Longer Make You Put Your House on Stilts
Annie Linskey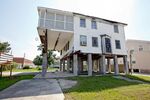 Two years after passing an overhaul of the National Flood Insurance Program that was praised as a bipartisan victory, Congress erased most of it yesterday with Senate approval of the Homeowner Flood Insurance Affordability Act.
The initial law, known as the Biggert-Waters Flood Insurance Reform Act of 2012, was passed after environmentalists and Tea Party activists joined forces to make major changes to the country's flood insurance program, the government entity that pays out checks to help homeowners repair water damage caused by hurricanes and other storms. Enviros felt the program encouraged development on sensitive lands by allowing federally subsidized flood insurance rates in coastal areas, and small-government activists balked at the program's red ink–at the time it was $18 billion in debt, a number that has since ballooned to $24 billion.
Senate Majority Leader Harry Reid praised the 2012 overhaul when it cleared his chamber: "This legislation proves that when Republicans decide to work with Democrats, we can do a lot to move our economy forward," he said, according to the Washington Post.
Then the law went into effect. Homeowners from Louisiana to Massachusetts saw rates for their annual flood insurance premiums spike to $20,000 or more from as low as $600 a year; housing markets in some counties locked up as buyers were scared off by the uncertainty surrounding the cost of flood insurance, which is necessary to secure a mortgage. Storm-damaged homes had to be lifted on stilts to comply with new estimates about future floods, as Bloomberg Businessweek detailed in a story last August.
At the same time, the Federal Emergency Management Agency plowed ahead with a national program to revise the boundaries of the country's flood plains using more sophisticated modeling, a process that is slowly adding hundreds of thousands of homes to zones where flooding is expected. Because of the 2012 law, homeowners were suddenly required to carry flood insurance, many for the first time. In other cases, FEMA revised its estimates for how high storm waters could rise, which also triggered steeper flood insurance costs.
As communities began seeing their new flood estimates, and their new flood insurance bills, opposition grew—and in January the Senate passed a bill that would have delayed the reform bill for four years. Then, last month, the House rewrote the bill to eliminate the bulk of the 2012 overhaul and instead add a $25 surcharge to roughly 5.6 million homeowners in the National Flood Insurance Program. (Owners of businesses and second homes will pay $250.) The Senate approved the bill yesterday on a 77-to-22 vote.
The bill mostly reverts the law to pre-2012 terms. Homes that were built to code prior to the new flood estimates would continue paying the older, lower rates. The bill would undo a provision in the 2012 law that triggered higher flood insurance rates when houses are sold. It would require a refund for those homeowners who've had to pay the higher rates.
Praise didn't come from all quarters. Andrew Moylan, a senior fellow at R Street Institute, a Washington think tank that was involved in drafting the 2012 overhaul, says Congress's decision to undo the earlier law shows the power of "a small group of vocal homeowners" scaring Congress. "It rebreaks the flood insurance program," he says.
Before it's here, it's on the Bloomberg Terminal.
LEARN MORE