Peres Releases Photos of Disguises Used to Meet King of Jordan
Caroline Alexander and Alisa Odenheimer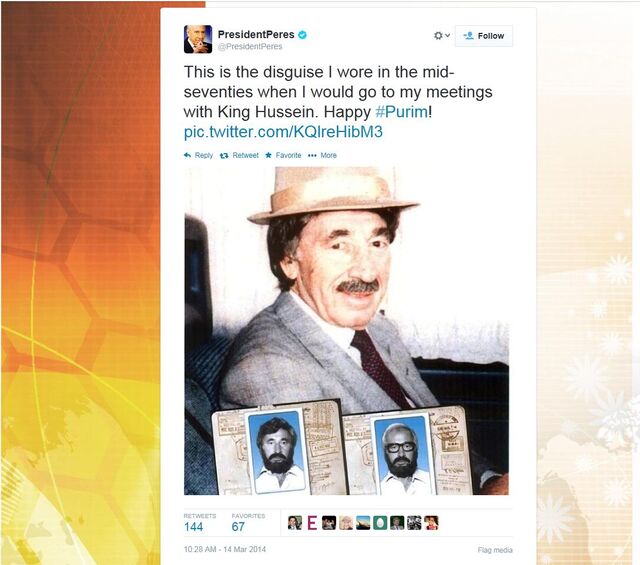 Israeli President Shimon Peres posted photos showing the disguises he used in secret peace talks with Jordanian leaders four decades ago when the countries were formally at war.
"This is the disguise I wore in the mid-Seventies when I would go to my meetings with King Hussein," Peres said in comments accompanying the photos, which he posted on Twitter and Facebook to mark the Jewish festival of Purim, which begins tomorrow. The holiday celebrates the survival of the Jews of ancient Persia and involves feasting and masquerades.
One photo shows Peres sporting a mustache and hat, while in two passport photos, he's shown with a beard. The president's office verified the authenticity of the images. Peres developed and maintained a secret relationship with King Hussein that led to negotiations under Yitzhak Rabin and a peace agreement with Jordan that was eventually signed in 1994.
Ties between the two countries were strained this week after Israeli troops shot and killed a Jordanian judge of Palestinian descent at a West Bank-Jordan crossing after he allegedly tried to grab a gun from a border guard.
Jordan's Foreign Minister Nasser Judeh summoned Israel's No. 2 diplomat to Amman to condemn the shooting. Israel expressed regret and said it would set up a joint team with Jordan to investigate.
Before it's here, it's on the Bloomberg Terminal.
LEARN MORE