Online Programs Could Erase Half of U.S. Business Schools by 2020
Regional MBA programs may become satellites of elite ones
By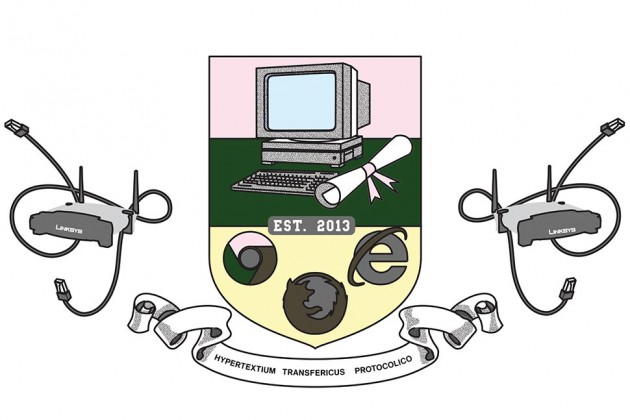 When Indiana University's Kelley School of Business launched an online MBA program in 1999, few traditional universities had embraced distance learning. Online degrees were more typically offered by for-profit outfits such as the University of Phoenix, whose television ads featured tired working stiffs eager to escape their income bracket, not the future titans of industry top MBA programs look for.
Fifteen years later, 1,072 students are enrolled in Kelley's online MBA program, more than double the number in the school's regular two-year program. Tuition for Kelley Direct works out to $61,200 for two years, compared with $93,000 for the on-campus program. The University of North Carolina at Chapel Hill's Kenan-Flagler Business School has 551 students in its online program, more than in its full-time MBA program. UNC's online degree costs $96,775, vs. $111,092 for its regular program.
The popularity of online degree programs at Kelley and Kenan-Flagler—the only schools offering online MBAs in the top 20 of Bloomberg Businessweek's biannual ranking of full-time MBA programs—is evidence of a shift in attitudes. The day may not be far off when, freed from the bonds of geography, elite B-schools use digital streaming and online video to attract the brightest students from around the world. While top-ranked institutions are probably immune to the competitive challenge this change could bring, that's not true of the larger universe of 420 U.S. MBA programs accredited by the Association to Advance Collegiate Schools of Business. "Half of the business schools in this country could be out of business in 10 years—or 5," says Richard Lyons, dean of the University of California at Berkeley's Haas School of Business.
The shakeout that Lyons predicts may be hastened by a falloff in B-school applications. In the year ended June 30, 2012, about 117,000 U.S. citizens took the Graduate Management Admission Test, a proxy for MBA demand. That was down 6 percent from the same period in 2002. Forty-six percent of full-time MBA programs saw a decrease in applications in 2013, according to the Graduate Management Admission Council, which administers the GMAT.
As competition for applicants heats up, more B-schools are scrambling to create virtual classrooms where professors and students interact in real time. "Once you get out of the top tier of schools, you're either already online, on your way there, or dead in the water," says Robert Lytle, a partner in the education practice at Parthenon Group, a consultant.
Institutions that rely strongly on revenue from executive and part-time programs, which cater to working professionals, are on the shakiest ground. Southern Methodist University's Cox School of Business, based in Dallas, had 256 full-time MBAs in 2012. Almost twice as many students were enrolled in its part-time and executive MBA programs, which are both ranked in the top five among programs of their type by Bloomberg Businessweek. At most schools, part-time and executive MBA students get less financial aid than full-time students, and those more lucrative students may eventually gravitate to online degrees from schools with bigger brands, says Lyons. "You'll be competing for the best students with more schools."
Many elite business schools, including the University of Pennsylvania's Wharton School and the Stanford Graduate School of Business, have experimented with massive open online courses, or MOOCs, which allow virtually anyone to take MBA courses for free. Most top schools don't offer online degrees, which might dilute the value of the degrees they offer by allowing more people to obtain MBAs. Michael Desiderio, executive director for the Executive MBA Council, an industry group, says his 230 members are thinking about how to "adapt to continue to serve a population that has changing needs." He points to hybrid degree programs, such as an offering from the University of California at Los Angeles's Anderson School of Management, which combine online components with in-person courses, as one way schools are adapting.
Paul Danos, dean of Dartmouth College's Tuck School of Business, says less well-known schools face a threat regardless of whether prestigious institutions decide to offer online degrees. "A relative handful of top professors could create highly produced online courses that other schools would pay to use as part of their degree programs," he wrote in a recent essay on Tuck's website. Non-elite schools might feel pressured to outsource certain courses or whole subject areas to top schools, wrote Danos. That might turn regional business schools into satellites of better-known universities.
A popular argument for the traditional on-campus MBA program is that business school is about who you meet, not just what you learn. Elite programs such as the Wharton School tout in marketing materials the value of relationships formed on campus.
Those networking experiences may be less important for midcareer candidates. Laurie Pickard, a development specialist living in Kigali, Rwanda, has been documenting her attempt to complete a full MBA curriculum through MOOCs on her blog, The No-Pay MBA. The free online courses do a good job teaching content, Pickard says, and she already has a professional network. "What I'm not getting is the brand name of the degree," she says.
Bob Bruner, dean at the University of Virginia's Darden School of Business, predicts schools will seek to concentrate expertise in specialized subject areas to continue attracting students. "The transition we'll face between the changing mix of students and new technology will create a fraught time in the next decade," he says. "Pitting yourself against Harvard is a tough game to win."