pursuits
NFL Tickets Are Way Too Cheap (Especially in Green Bay)
By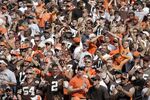 Spring is time for the football minds at NFL teams to mull free-agent signings and draft picks. The business folks, meanwhile, focus on ticket prices. Sometimes this can look quite rational: The Carolina Panthers are raising ticket prices after their first playoff appearance in five years; the Cleveland Browns, who have been awful for years but have at least kept ticket prices cheap, are leaving prices where they are. But if you assume that teams feel generally justified in immediately jacking up prices after a strong season—or are by and large ashamed to do so after a disappointing one—you'd be wrong on both counts. An analysis of when teams raised prices over the last four seasons shows little connection between performance on the field one year and movements in ticket price the next.
The chart below draws on the last four years of data from Team Marketing Report. The horizontal axis shows how much a team improved over a season by number of wins; the y axis is the percentage change in the average ticket price for the following year. The steeper the regression line, the greater the correlation between increased wins and price hikes. It's basically flat.

Moreover, six teams raised prices more than 10 percent in a single offseason over that period. Four of those were coming off a season in which they had lost more games than they had the year before. (Note: There are some quirks in the data because Team Marketing Report relies on teams to hand over information. For instance, it looks like Philadelphia raised prices 34 percent last season. The team told local press at the time that the increase was closer to 10 percent. There are enough data that the anomalies get smoothed out.)
As a general rule, teams don't raise ticket prices very much. League-wide, the average price of a ticket rose 6.6 percent from 2010 to 2013—a little less than the rate of inflation over the same period. Which teams are the best deals? If you don't mind bitter cold and even bitterer disappointment, go with the Browns, with a league-low average ticket price of $54. In terms of price per win, however, the Browns are actually the eighth-most expensive team in the league, at $9.03 over the last four years. The Patriots were the most expensive team in the league at $117 per ticket, but the 11th-best deal: Fans paid on average only $6.93 per win. Here's a leaderboard, in price-per-win terms:
Cheapest Good Teams
Most Expensive Bad Teams
Saints:
$5.36
Cowboys:
$11.02
Packers:
$5.39
Jets:
$10.58
Seahawks:
$5.40
Redskins:
$10.54
Falcons:
$5.74
Jaguars:
$9.87
Steelers:
$5.74
Vikings:
$9.59
One thing that's clear is that not a single team is charging nearly as much as it could. Prices on the secondary market were far higher than face value for every single team in the league. And given that fans have few qualms about paying more once a team strings together a few good drives, fans' willingness to pay can be seen over the course of a single season. The chart below plots the change in a team's performance against the change in average ticket prices on the secondary market vs. the year before. (Pricing data come from SeatGeek.)

Popularity and performance don't always move together. Last year, for instance, the Arizona Cardinals improved by five games, but their ticket prices on the secondary market dropped almost 20 percent. Jacksonville and St. Louis have also had seasons where they improved on the field while their tickets became notably cheaper on the secondary market.
If a team were to consider moving its prices closer to what the market would bear, a good way to think about doing so would be to look at the premium fans pay on the secondary market. Here's a look at how much over face value fans are spending to buy tickets, courtesy of SeatGeek.
Smallest Premium
Largest Premium
Rams:
48.7 percent
Packers:
267.8 percent
Jaguars:
59.7 percent
Saints:
263.1 percent
Chiefs:
64 percent
Steelers:
247.9 percent
Jets:
73.1 percent
Bears:
213.3 percent
Vikings:
77.1 percent
Broncos:
210 percent
So who should raise prices? Good teams from small markets, and the Bears. And who should be most wary about losing their fan bases? Mediocre teams from small markets, and the Jets.
Before it's here, it's on the Bloomberg Terminal.
LEARN MORE