For Casino Companies, Is Real Estate the Real Payoff?
by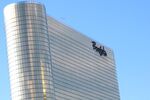 Shares of Boyd Gaming have been on a hot streak, up 19 percent since March 10, when activist investment firm Elliott Associates announced it was taking a 5 percent stake in the Las Vegas-based casino company. The move signals Elliott's interest in replicating a real estate play Penn National Gaming made last year when it spun off its 22 properties into a publicly traded real estate investment trust (REIT).
In November, Penn completed the tax-free spin off of Gaming and Leisure Properties, which owns Penn's 19 casino properties. Penn manages those businesses and pays rent to Gaming and Leisure, which distributes its pretax profits to investors as dividend payments. Wall Street analysts cheered the arrangement and have pronounced the transaction a success.
At a time when most sizable states are either allowing new casinos or have shut the regulatory door on them, the gaming industry confronts a U.S. landscape that is largely saturated. Practically any American who cares to gamble can do so not far from home—and even online in three states. The value for shareholders of traditional gaming operators, therefore, could lie in the property on which casinos sit.
"Record low interest rates are certainly propping up real estate values, and that is not something that is unique to gaming properties," says Christopher Jones, an analyst with Telsey Advisory Group. He predicts that Pinnacle Entertainment will also explore a REIT spinoff. "The window is probably getting ready to close" for REIT conversions as the Federal Reserve slowly begins to engineer rate increases, Jones says.
Boyd operates 22 properties in eight states, including a 50 percent stake in the Borgata Hotel Casino & Spa in Atlantic City, N.J., and several casinos in downtown Las Vegas—away from the glitzy end of the Strip—that cater to locals. Boyd has annual revenue of about $2.9 billion, and more than $4 billion in debt, a load that could prove difficult for a new REIT to manage, Jones says.
He and some other analysts are also quick to note that Boyd is no Penn National when it comes to easy comparisons of a REIT spinoff. First, Penn was a federal taxpayer, while Boyd carries some $1.1 billion in net operating losses on its books, which means it doesn't owe Uncle Sam cash come tax time. Jones estimates that Boyd won't owe cash taxes for at least a decade.
Boyd declined to comment on the REIT proposal, spokesman David Strow said Thursday. "We always appreciate new investments in the company," Strow said. Elliott Associates did not respond to an e-mail or a telephone call seeking comment.
Another wild card for any REIT conversion is the Boyd family, which has not commented publicly on the matter. William S. Boyd founded the company with his father in 1974 and remains executive chairman; his daughter serves as chief diversity officer and his son is a company vice president. The three Boyds, who also sit on the company's 12-person board of directors, control 27.5 percent of Boyd's outstanding shares, according to Bloomberg data.
Macquarie analyst Chad Beynon says the Internal Revenue Service and the states in which Boyd operates may not look kindly on any structure in which the operating losses are kept by Boyd. "If it were that easy, we would live in a tax-free world and own penthouses on Park Avenue," Beynon wrote in a March 12 client note. "Clearly, REIT conversion or 'REITional gaming' is not that simple."
It may not be simple, but it could happen in an industry whose investors want their casino stocks to pay out.
Before it's here, it's on the Bloomberg Terminal.
LEARN MORE