Will High-Tech Mass Transit Fares Leave Too Many Riders Behind?
Equity concerns surround a new ticket and schedule app coming to Long Island.
Keith Barry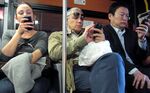 GARDEN CITY, N.Y.—The first time I rode NICE, Nassau County, New York's transit system, I got on the N22 at the Roosevelt Field Mall. To get to the bus stop I walked past the $5 valet parking, past the Tesla EV charging station, and past the overflow lots filled with everything from new BMWs to old Hondas. I stopped at a convenience store to get change — a dollar bill and a dime to pay the $1.10 fare.
The easiest way to pay a NICE fare is with exact change. The buses also accept the New York City MetroCard — a relic of when the system was part of New York's MTA — but if you don't have a MetroCard before arriving at a NICE station you aren't likely to get one. There's only one full-service MetroCard vending machine in all of Nassau County, and the retailers that also sell them are few and far between.
When I boarded the N22, I found nowhere to accept my paper money. "You can't pay with a dollar bill," the conductor said. "You have to ask someone for change." A young woman — evidently a veteran NICE commuter — pulled out a roll of dollar coins and traded my crumpled bill for one, barely pausing her phone conversation to complete the task.
NICE's fare system won't be forcing people to rely on coin-carrying Samaritans or hunt down a MetroCard much longer. This summer, the agency will follow a growing number of transit systems that offer an app for riders to buy tickets on their smartphones. (The app will also show bus locations in real-time.) If the plan succeeds, it could serve as a model for suburban commuter systems across the country.
But success won't be measured in technology alone. Excitement over the upgrade is tempered, in part, by concerns about equity. Aaron Watkins-Lopez, who leads the Long Island Bus Riders' Union, a transit access advocacy group, looks forward to the NICE app but says he worries it won't improve access universally.
"I think it'll be really great for younger generations of people, and those people who have the capability to use a smartphone," he says. "But I don't see what they're doing to improve service to those people who don't have access to the Internet or to a smartphone."
•       •       •       •       •
Public transit has a mandate to be accessible for every rider, and the same thing goes for public transit ticketing. Any fare system upgrade that discriminates against certain rider populations — those who don't have smartphones or aren't comfortable using the Internet, for instance — isn't an upgrade for all. So the numerous advantages of mobile ticketing notwithstanding, such a system can't replace traditional forms of fare collection overnight.
"That is a very important issue for the industry. We've got to be careful that we don't disadvantage others," says Martin Schroeder, chief technology officer for the American Public Transit Association. "A patron who wants to ride a metro system wants to have flexibility in how they pay for their ticket."
The concern over fair fare systems is especially acute given the income disparity in Nassau County. Here, in the affluent suburbs of New York City, the average county resident has an annual household income close to $100,000, drives to work, and is white. In contrast, the average NICE rider comes from a household that earns under $35,000 a year, does not own a car (or can't drive), takes the bus to work, and is a minority.

Those profiles might seem to suggest that high-income choice riders will benefit from mobile ticketing while low-income captive riders won't. But Jake Sion, a project analyst at NICE in charge of smartphone ticketing, says the new fare plan is based on detailed studies of system ridership that challenge this common belief about bus riders. "People assume that it's only going to be for rich people who use transit as a lifestyle choice," he says, "and that kind of idea has got to go."
The numbers support him. Nationwide, only 56 percent of adults own smartphones, and that number drops to 43 percent when you look at those who make under $35,000 a year. Yet a 2013 survey of nearly 8,000 NICE riders found that roughly 67 percent have access to a smartphone (below). Accounting for this gap is tough — that's likely because NICE riders skew younger than the national average — but it's clear that many bus riders will in fact benefit from the agency's new app.

Smartphone ownership is also pretty even across the system. According to the NICE survey, a majority of riders have smartphone access on all but three routes (the N14, N21, and N33). And for those without smartphone access, nothing will change. Sion says that about 10 percent of NICE riders surveyed don't have a bank account. That's why cash isn't going away, and neither is the MetroCard.
Once smartphone ticketing is online, NICE will have to evaluate whether riders are taking advantage of it. Some riders may not want to use their limited smartphone data plans on buying a ticket; others might not want to enter their credit card number into the app. NICE will also have to offer tech support for those who have trouble with mobile ticketing for whatever reason.
Still, a recent survey showed that most riders are looking forward to paying by phone. "We were really blown away by how positive some of the comments were we received," says Sion. Looking around at my fellow passengers on the N22, I noticed that nearly all of them were using their smartphones — some listening to music, some watching videos, some no doubt checking Twitter and Facebook. Far more seemed capable of paying their fare by phone than, say, having exact change for a stranger paying cash. 
This article is part of 'The Future of Transportation,' a CityLab series made possible with support from The Rockefeller Foundation.
Top image via Flickr user njt4148.