business
Volkswagen Pockets $23,000 When You Buy That New Porsche
By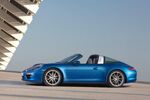 One could forgive Volkswagen executives for only wanting to drive their fleet of Audis, Bentleys, Porsches, and Lamborghinis. The German giant's luxury offerings are outperforming its pedestrian passenger cars, both on roads and off.
For every Porsche it sold last year, Volkswagen booked about $23,200 in operating profit, for a margin of 18 percent, according to an annual report it released this morning. Bentley wasn't far behind Porsche, and the Audi brand, which includes the Lamborghini badge, posted $5,200 in profit per vehicle at a 10 percent margin. That compares with an $850 return, at a 2.9 percent margin, for one of VW's mass-market machines, such as the Jetta or Passat.

"Porsche is growing in every respect, from profitability to innovative power, right up to its motor portfolio," Martin Winterkorn, Volkswagen's chief executive, said on a conference call this morning.
Why might a Porsche be so much more profitable than something more pedestrian? For one thing, its customers are far less price sensitive. Drivers wealthy enough to consider such a plush ride were likely making a mint on U.S. stocks last year, regardless of where they lived. The average Beetle customer, meanwhile, may have been capturing less economic upside.
What's more, there is less clear competition to a Porsche or a Bentley—fewer models to "cross-shop," as car folks say—while anyone kicking the tires on a Passat can probably find a dozen similar sedans less than a mile away. Audi isn't quite so rarefied, but the brand is making headway by simply beating its peers at BMW and Mercedes.
Indeed, Volkswagen's high-end models carried the company last year, as demand waned for its more affordable cars and it poured research dollars into retooling its big sellers. The company R&D expenses climbed 23 percent last year, sucking up almost 6 percent of revenue. A euro that steadily gained on the dollar and a shaky Continental economy didn't help results either. The company's total sales for 2013 ticked up only 2.2 percent, to €197 billion ($275 billion at this morning's exchange rate), while income slid 58 percent, to €9.1 billion.
Volkswagen, however, is hoping all those research expenses will pay off this year. As it pieces together 100 new and refreshed models, the company said it may sell more than 10 million vehicles this year, vs. 9.73 million in 2013. "It is fair to say that the Volkswagen Group has proven to be in great shape despite the difficult conditions," Winterkorn told analysts this morning.
The company is determined to top Toyota as the world's No. 1 car seller, a feat that will require millions of Golfs and Jettas. Blue-blood offerings such as Porsche and Bentley don't move enough metal to make much of a dent on that goal, but their financial performance at the moment is far more impressive than any volume bragging rights.
Before it's here, it's on the Bloomberg Terminal.
LEARN MORE