Scene: Billy Crystal, Ron Howard, Emmy Rossum, Amy Phelan
Amanda Gordon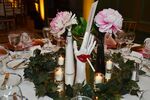 Auctioneer Tobias Meyer, formerly of Sotheby's, sat with artists Lisa Yuskavage, John Currin and Rachel Feinstein last night at a dinner for the Art Production Fund.
They faced a centerpiece of mannequin hands equipped with mouths clenching cigarettes, designed by artist Aurel Schmidt. A modest number of pink peonies also appeared, coordinating with the wallpaper of the private social club where the event was held.
The meal of shredded fennel, filet mignon, and potatoes was utterly mundane compared with everything and everyone else at the White Glove Gone Wild Gala.
Amy Phelan, wife of MSD Capital's John Phelan, wore jersey, fingerless white gloves, following the instructions of Yvonne Force Villareal, co-founder of the Art Production Fund. "You want to honor what the evening is about," said Phelan. She bought 11 pairs for the other guests at her "girl's table."
"What I love about Art Production Fund is that it's chic and sexy and not afraid of anything," Phelan added.
As the Fund helps artists execute projects, artists contributed various elements to the event, including a live tableau by Vanessa Beecroft in which women modeled wigs and dresses in styles from Renaissance to mod.
Tattoos
Wangechi Mutu designed temporary tattoos, such as "I've been trying so hard to be feline," a phrase that Anastasia Rogers, who works for artist Marco Brambilla, had put on her back. "I always feel like a feline," she said.
The gathering also brought out model Karlie Kloss, Thelma Golden, director of the Studio Museum in Harlem, and Jeanne Greenberg Rohatyn, founder of Salon 94.
Carolina Herrera, who was honored, talked with actress Emmy Rossum ("Shameless"), while writer Linda Yablonsky, the other honoree, received a hug from Marina Abramovic.
"I bought a ticket because the honorees are two of my favorite people," said writer Bob Colacello, whose book "Holy Terror: Andy Warhol Close Up" has just been re-released.
Temperatures reaching 66 degrees on Tuesday put guests at the Chamber Music Society of Lincoln Center in a good mood, and had them thinking about the right musical accompaniment.
"I was feeling a little spring fever rock and roll today," said actor-turned-director Ron Howard. "I was going back to the summertime, all that stuff from the early 70s."
Opera Fan
Wu Han, co-artistic director of Chamber Music Society, said she had Richard Strauss's cello sonata in mind. "He wrote it when he was only 16 or 17, he was completely in love. The youthfulness and the energy and all of the great melody -- it's total spring music."
The outlier was Frederick Iseman, chief executive officer of CI Capital Partners, still in Polar Vortex mode or maybe just anticipating the coming of winter in "Game of Thrones."
"I've been thinking about DMX's ''Ain't No Sunshine," he said.
Iseman was honored for his support of arts organizations including the Metropolitan Opera and Russia's Mariinsky Theatre. Peter Frelinghuysen Jr., a retired lawyer, was also recognized as he finishes a 10-year term as chairman of the Chamber Music Society. (James P. O'Shaughnessy, CEO of O'Shaughnessy Asset Management, will fill the position.)
Frelinghuysen has loved classical music since his youth. "My grandparents lived near Tanglewood, so I remember being dropped off for rehearsals, there was no fence, no gate. This was in the '40s," said Frelinghuysen of the Boston Symphony Orchestra's outpost in the Berkshires. "There was this lunatic screaming at the orchestra, who I didn't realize until years later was Serge Koussevitzky," the BSO's music director.
Jazz Gala
Howard's appreciation for classical music came after he was done hanging out by the juke box in "Happy Days."
"I got older, I started listening to NPR," he said.
He's currently directing "Heart of the Sea," a film about a whaling ship, which is due in 2015. Chris Hemsworth stars, Ben Whishaw (Q in the new James Bond films) plays Herman Melville, and Roque Banos is composing the music.
Dinner and a performance of Brahms took place in the Appel Room at Jazz at Lincoln Center. The 320 guests included former World Bank president James Wolfensohn and Municipal Art Society president Vin Cipolla. The event raised more than $1 million, with tickets priced from $1,250 to $2,500.
On May 1, Billy Crystal will host a gala for Jazz at Lincoln Center with a concert designed by managing and artistic director Wynton Marsalis to tell the story of jazz.
Investing Improv
Two rising stars in the line-up are "Stay Human" band leader Jonathan Batiste and Grammy-nominated vocalist Cecile McLorin Salvant. Gala veterans include Bill Cosby and crooners Dianne Reeves and Brian Stokes Mitchell.
Trumpeter Jon Faddis, fiddler Mark O'Connor, and the Fairview Baptist Church Brass Band will also perform in the show, directed by Marc Bruni, who has "Beautiful: the Carole King Musical" on Broadway now.
The honoree is John Arnhold of First Eagle Investment Management, a Jazz board member. "We're improvising all the time," said Arnhold of the connection between jazz and investing.
The event is a return to tradition after three years of inviting/coaxing famous rockers to explore their jazz interests: Eric Clapton went first, then Paul Simon, followed by Crosby, Stills & Nash.
These concerts brought huge buzz and crowds, and are a wonderful legacy for departing board member Ashley Schiff, who produced them. The Palm Beach resident is now focusing on family and local causes like the Everglades Foundation.
This year's gala chairmen include stock jockeys Arthur Samberg and Bob Appel, private equity boss Thomas H. Lee, and art dealer Larry Gagosian. Tickets start at $1,500.
Before it's here, it's on the Bloomberg Terminal.
LEARN MORE