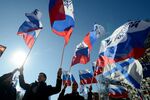 The U.S. and European Union are warning Moscow they won't hesitate to impose sanctions that German Chancellor Angela Merkel says could cause "massive economic and political harm" to Russia. The penalties could "get ugly fast," according to U.S. Secretary of State John Kerry.
The track record on the effectiveness of economic sanctions is mixed, to put it mildly. But Russia is clearly taking the risk seriously. Bloomberg News reports today that Moscow is bracing for sanctions similar to those imposed on Iran, including a possible freeze on the country's foreign reserves and banking assets as well as on foreign lending to Russian companies. While that's still viewed as an unlikely worst-case scenario, government and business leaders have begun calculating the potential economic cost, according to people involved in the assessment.
For now, the EU is considering only limited measures, including visa restrictions and asset freezes on Russians whom it deems responsible for the country's incursion into Ukraine's Crimea region. But it has warned it might impose additional sanctions that would cause "far-reaching consequences."
It's true that Russia would hold some high-value cards in a sanctions showdown. It has $490 billion in foreign exchange reserves, enough to service the external debts of its government and private sector. Even more important, the country is a major energy exporter and a critical supplier of natural gas to western Europe. And it's a key market for European companies, which annually export more than $120 billion worth of goods to Russia. "Of course it's possible to damage each other—but this would be mutual damage," Russian President Vladimir Putin told reporters earlier this month.
Because of the potential harm to Europe, "we suspect that the threat of tougher sanctions will remain a negotiating tool rather than a serious proposition," Neil Shearing, chief emerging-markets economist at Capital Economics in London, wrote in a note to clients today.
Even so, Russia faces a significant risk that the current standoff will continue to undermine confidence in its already-faltering economy. "The market stays nervous, and capital flight from Russia accelerates," is how Daniel Salter, head of equity strategy in London for Moscow-based Renaissance Capital, sums up the situation.
What's more, if the West ratchets up the sanctions now being considered, Russia would face severe economic shocks should it retaliate. "If Russia begins to answer sanctions with sanctions, it will be a pure loss for the country," says Natalia Orlova, chief economist at Alfa Bank in Moscow. "More than 40 percent of consumption is imported goods." Economists predict that an all-out trade war with the West could erase one-third of the value of the ruble, which has already slid almost 10 percent against the dollar this year.
Even the relatively limited sanctions being considered could place Putin in a bind. "Visa restrictions and asset freezes on key officials"—many of whom hold significant assets outside the country—"could cause the tightknight circle around President Putin to fragment," Shearing says, "and ultimately lead to political instability in Russia itself."
Before it's here, it's on the Bloomberg Terminal.
LEARN MORE