Obamacare's Year of Delayed Deadlines
Obamacare's Year of Delay (and delay, and delay)
By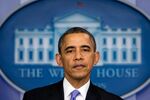 President Obama got a lot of attention in July 2013 for deciding, without congressional approval, to give employers an additional year to comply with the Affordable Care Act, and for announcing this month that people can keep plans that don't meet the law's standards for two more years. Yet the president has quietly delayed, modified, or selectively enforced elements of Obamacare more than a dozen times.
April 1, 2013
The law says small businesses can give employees a menu of health plans. Instead, the White House announces that the Obamacare marketplaces, set to open on Oct. 1, won't be able to handle so many choices and restricts employers to offering a single plan. (One of the first signs that planning for the Obamacare rollout isn't going smoothly.)
July 2, 2013
The White House delays for one year the law's requirement that employers provide coverage to workers.
Sept. 26, 2013
Small businesses now won't be able to buy coverage until November.
Oct. 1, 2013
Healthcare.gov launches—and flops.
Oct. 23, 2013
The deadline to buy coverage and avoid a penalty in 2014 is pushed back to March 31 from Feb. 15.
Oct. 29, 2013
The White House once again postpones opening day of the small business marketplace, to late November.
Nov. 14, 2013
Under fire after insurers canceled plans that didn't meet the law's requirements, the White House instructs states to let individuals keep their policies for another year.
Nov. 22, 2013
In an end run around the broken Obamacare website, the administration says people can enroll directly with insurance companies and still qualify for subsidies, which the law wasn't supposed to allow.
Nov. 27, 2013
The small business exchange is delayed another year.
Dec. 1, 2013
A "fixed" healthcare.gov is relaunched.
Dec. 12, 2013
The original deadline to purchase coverage beginning on Jan. 1 is extended from Dec. 15 to Dec. 23. The White House "recommends" insurers allow people to sign up beyond that and requires them to accept payments as late as Dec. 31. Government-run high-risk insurance plans, set to end on Jan. 1 when Obamacare takes over, are extended for a month.
Dec. 18, 2013
At the request of the White House, insurers agree to accept payment for coverage as late as 10 days after policies take effecton Jan. 1.
Dec. 23, 2013
Coverage deadline is extended by one day, to Dec. 24.
Dec. 24, 2013
People who started to enroll on healthcare.gov but couldn't complete their application by the Dec. 24 deadline are given extra time.
Jan. 14, 2014
The White House again extends high-risk insurance pools, which are now set to expire March 31.
Feb. 10, 2014
The requirement that employers with 50-99 workers provide coverage is delayed another year until 2016.
March 5, 2014
People in plans that don't comply with Obamacare can keep renewing them as late as October 2016, avoiding a new round of cancellations during the 2014 campaign season.
March 31, 2014
The White House says it's standing firm on one deadline: Uninsured people must choose a plan by March 31 or face fines.
Before it's here, it's on the Bloomberg Terminal.
LEARN MORE