Manhattan Apartment Tenants Get Relief as Rents Decline
Oshrat Carmiel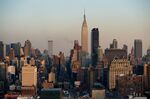 Manhattan apartment dwellers are getting some relief after two years of rent increases that brought tenant costs close to a new peak.
The median monthly rent fell 2.8 percent in February from a year earlier to $3,100, according to a report today by appraiser Miller Samuel Inc. and brokerage Douglas Elliman Real Estate. It was the sixth straight decline. The vacancy rate rose to 1.87 percent from 1.69 percent, while owner concessions also climbed.
Manhattan landlords have retreated after 23 months of raising prices to make up for ground lost during the recession. Median rents increased 15 percent from the bottom in November 2009 and were approaching the 2006 high of $3,265 a month before they began to slide in September. Some tenants are being drawn into the sales market, while those who remain leasers are resisting higher rates, according to Jonathan Miller, president of New York-based Miller Samuel.
"The owners were pushing and pushing and pushing and they weren't relenting in any way shape or form," Gary Malin, president of brokerage Citi Habitats, which also released a report on the Manhattan rental market today. "They just assumed they could continue."
Buyers rushed to complete purchases as a spike in mortgage rates from near-record lows in May threatened to make homes more costly. In the fourth quarter, Manhattan condominium and co-op sales reached the highest total for the period in 25 years of record-keeping, according to Miller Samuel and Douglas Elliman. The surge in deals helped push up the apartment vacancy rate and reduce some of the landlords' pricing power, Miller said.
Taking 'Pause'
"New York, in our assessment, is simply taking a pause," David Santee, chief operating officer of Equity Residential, the country's largest publicly traded apartment landlord, said on the company's Feb. 5 earnings call.
At Equity Residential's 26 Manhattan properties, the number of tenants moving out to buy apartments increased almost 20 percent in the final three months of last year, Santee said.
"If we see decreases in traffic then we know that maybe we pushed too far with our rents," Tom Lebling, senior vice president of property management at Chicago-based Equity Residential, said in an interview yesterday. "If we see increases in people's notices to vacate, we realize we may have to back off."
The company still expects rent increases for lease renewals at its Manhattan buildings to average 4 percent in the first quarter, Santee said on the call.
Landlord Concessions
Landlords offered concessions, such as a month's free rent, on 9 percent of all new Manhattan leases in February, up from 5.5 percent a year earlier, according to Miller Samuel and Douglas Elliman. The number of new lease agreements climbed 3.1 percent, suggesting tenants were leaving their apartments in search of better deals elsewhere, Miller said.
Some tenants may have headed to Brooklyn. Rents in the borough, New York's most populous, surged 12 percent in February, bringing the monthly median to $2,890, or just $210 less than in Manhattan, Miller Samuel and Douglas Elliman said. The spread is the narrowest it's been since the firms began tracking the market in January 2008.
Citi Habitats in its report said 12 percent of new leases in February included incentives, up from 8 percent a year earlier and the most in two years. The sweeteners helped push the vacancy rate to 1.5 percent, down from 1.62 percent in January and the lowest since September, the brokerage said.
Website Search
Garn Nibley and his wife didn't want to pay a broker's fee, so they searched websites for a two-bedroom apartment, setting a monthly budget of no more than $3,000. Responding to an online advertisement, they connected with Lorett Vigon, a broker at Citi Habitats, who agreed to help them find a place that met their needs and on their financial terms.
Vigon directed the couple to a 750-square-foot (70-square-meter) duplex on East 32nd Street in Murray Hill that had one bedroom plus two separate loft spaces. It was one of three vacancies in the 71-unit building and the asking rent was $3,495.
The landlord didn't want the apartments to go empty "and they were willing to work with us to help make it happen," Vigon said.
A two-year lease was offered with no cost increases and one free month. Vigon waived her usual fee of 15 percent of the annual rent and agreed to accept $3,495 instead.
"It was effectively a no-fee condition," said Nibley, 55, a pilot for American Airlines.
Highest Rents
Average monthly rents in Murray Hill ranged from $2,160 for a studio to $4,856 for a three-bedroom in February, according to Citi Habitats.
The Soho and Tribeca neighborhoods had the city's highest leasing costs, with studios averaging $2,413 a month and three-bedroom units commanding $8,403, the brokerage said.
Rents in Manhattan may have plateaued, according to Miller. While improving employment will continue to support current prices, income isn't growing at a pace that might suggest any sharp increases in rents this year, he said.
New York City added 94,800 jobs in the 12 months through January and average hourly earnings increased less than 1 percent, according to the state Labor Department.
Before it's here, it's on the Bloomberg Terminal.
LEARN MORE