GoPro Goes Big as a Hybrid Media Company/Videocam Maker
With a far-reaching roster of contributors, GoPro is reinventing what media means
By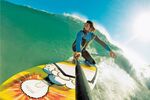 A few days after Thanksgiving, a friend tagged James Kenison in a Facebook post that he couldn't forget: It was a photo of a deer stranded on frozen Albert Lea Lake, in southeastern Minnesota. The deer and two others had been out in subfreezing weather for at least two days, in full view of traffic on I-35, as an online debate raged over their fate. The "Just shoot 'em!" crowd was losing to the "Please save them!" crowd, but how exactly could they be saved? The ice was too thin for emergency vehicles or snowmobiles, and the local authorities were unresponsive, despite TV news stories about their plight.
Kenison, 39, a K-9 police officer in nearby Rochester, had an idea. His hobby happens to be hovercrafting—riding around in propeller-driven boats that float 6 inches or so above the ground or water (or ice) on a cushion of air. The next day, Kenison and his father, Doug, hauled two hovercraft to the lake and set off across the ice. "We expected the worst," Kenison says. "We were prepared, if we had to put them down."
When they reached the deer, though, they were relieved to find that the animals were merely stranded, their hooves affording no traction on the glassy ice. After some debate, they attached a nylon tow rope to the first doe's front legs and tried to drag her across the ice. It worked. "C'mon, Bambi!" Kenison whooped as he towed the first rescuee to shore. "You're going for a ride!"

Kenison and his father managed to save all three deer, but that wasn't the end of it, because Kenison filmed the whole thing with a GoPro strapped to his head. The GoPro is a tiny, wearable camera, often used by skiers and surfers, that captures and produces high-quality video. They're cheap, starting at $200, and Kenison uses them to record his hovercraft explorations and make videos for customers he takes out for rides in the summer. He edited the video quickly and posted it on Facebook, "just to show the people who were concerned that you can stop worrying now."
Tina Marchman, a GoPro employee whose job entails trawling Facebook for videos filmed with the company's cameras, spotted his deer story. She reached out to Kenison and asked him to send in his raw footage, which he gladly did. A few weeks later, in early February, GoPro posted an edited version of the hovercraft deer rescue on its own dedicated YouTube channel, and it quickly spread, well beyond sleepy Minnesota lake country; within four weeks, it had 3.3 million views and counting.
That was nice for Kenison, who received some free camera mounts and accessories as a thank-you from GoPro. But the short video also illustrates how San Mateo (Calif.)-based GoPro is evolving into an unconventional media company. Kenison's footage had been cut down and edited by a 20-person department within GoPro (which has 700 employees total) that is devoted to shaping and redistributing user-generated content. Every day they upload a "Video of the Day," which may be from an athlete such as Olympic gold medal skier Ted Ligety or from an ordinary user such as Kenison. Either way, they edit the footage, add a hip soundtrack, slap a GoPro logo onto the beginning and the end, and boom! Free GoPro ad.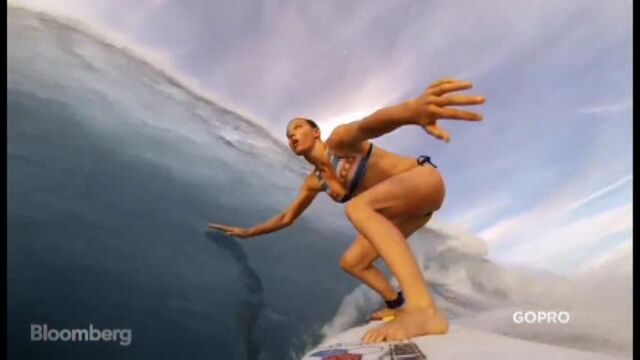 Since March 2009, more than 620 GoPro-posted videos have attracted 440 million-plus views, according to YouTube spokesman Matt McLernon. GoPro's own channel ranks in the top 350 on YouTube, and the company's customers are even more prolific. The number of videos with "GoPro" in the title has grown so much—60 percent from 2012 to 2013—that watching 2013's crop alone would take you 2.8 years. "It's not about hardware anymore; it's about software and experiences," says Christopher Chute, the research director at market-research company IDC. "And I think that's been GoPro's vision from the get-go."
That vision became more concrete in late January, when the company announced the Xbox OneGuide channel featuring GoPro videos. The channel, a pilot version of which is already available on Virgin America flights, will feature curated content, and users will be able to purchase GoPro products directly online. "GoPro is a content-driven company," Chief Executive Officer Nicholas Woodman declared at the time. And while that may have sounded odd for an outfit that depends on selling widgets for its bottom line, it's the content that has observers buzzing about an initial public offering, announced on Feb. 9.
The privately held company keeps its financials confidential, and because of the pre-IPO "quiet period" mandated by the Securities and Exchange Commission, its executives aren't saying much right now. (Woodman declined an interview request even though he's been Bloomberg Businessweek's Ask a Billionaire columnist.) Woodman previously said the company has been profitable since its founding in 2002. In December 2012, Foxconn Technology invested $200 million in GoPro, valuing the company at $2.3 billion. At the time, Woodman asserted that GoPro's revenue had been doubling every year, to $500 million in 2012. Still, it filed for its IPO under special rules that apply only to companies with revenue of less than $1 billion, which means its revenue for the past 12 months was … less than $1 billion. Whether that indicates a margin squeeze or a slowdown in overall sales is anyone's guess, at least until full-year 2013 sales numbers become available in a few weeks.

According to the website Social Blade, which tracks YouTube statistics, GoPro's YouTube earnings would max out at only about $1.7 million per year, a tiny percentage of its hardware sales. Yet GoPro's cultural footprint is outsized, from the company's first Super Bowl ad last month featuring daredevil parachutist Felix Baumgartner to the opening ceremony of the Sochi Olympics, where many athletes were seen filming themselves with GoPros in their hands or mounted on sticks. It's this content, some observers think, that could make GoPro a new sort of hybrid company, the way Red Bull is both a drinkmaker and powerful media brand. "Red Bull has become this media entity, created around the lifestyle of people who drink Red Bull," says Jason Stein, founder of Laundry Service, a digital media agency in New York. "GoPro is doing the same, but the reason I think they have more potential is that their product is an actual media device. If you put it on a professional athlete, or a Broadway performer, they're not only advertising your product, they're getting the most unique content you're ever going to see."
 
 
The concept of the GoPro—a waterproof, wearable camera that you can use while doing exciting stuff—was born as a way for Woodman and his friends to take pictures of themselves riding waves.
After the 2001 failure of his first Silicon Valley startup, FunBug, a gaming and marketing site, he took time off to travel the world and ponder his next step. On a rickety ferryboat in Indonesia's remote Mentawai Islands, he met a fellow American, a friendly young blond kid named Brad Schmidt. They bonded over their shared passion for surfing and photography, and Woodman showed Schmidt a prototype of the GoPro, which consisted of a point-and-shoot film camera encased in a clunky plastic box with a wrist strap.
Woodman eventually decided to return to the U.S. and start a company to sell his camera. He kept in touch with Schmidt, who spent the next few years traveling around the world, working odd jobs and, in his words, "just being a general drifter." Every now and then, Woodman would send along the latest version of his device, and Schmidt would experiment with it, taking pictures of himself surfing and having other adventures, and return them to Woodman, who would use the images in his young company's marketing materials. "In a weird way, it was the genesis of him realizing that whenever he sends off these units, he gets amazing stuff back," Schmidt says.

In 2009, Schmidt graduated from the University of California at Los Angeles film school and turned down a Hollywood job to work for Woodman, who had just released his first high-definition camera. Like Schmidt, many GoPro employees are action sports enthusiasts, giving the company street cred among the Red Bull set. Instead of advertising, Woodman aggressively handed them out to extreme athletes—surfers, snowboarders, and BASE jumpers such as Jeb Corliss. The footage they brought back was astounding, so good that Internet commenters insisted it had to be fake. As head of the company's fledgling production department, Schmidt says, "My job for the first six months was to put as many videos online as I could, for only one reason: to make sure that people believed it was real."
In the 13 years since he strapped a film camera to his wrist, Woodman benefited from a revolution in digital video that has allowed ever-better quality to come from ever-tinier boxes that wouldn't get in the way, become unbalanced, or pose a danger to the user. The current top-end model, the Hero 3+ Black edition, weighs only 70 grams with the battery (or about two-thirds of an iPhone 5). Despite its size and small lens, it produces startlingly clear footage at up to 4K resolution, which is good enough for commercial film production.

For the first time, people could see what it feels like to jump off a 3,000-foot cliff, ride inside the barrel at Oahu's Pipeline with Kelly Slater, an early GoPro user, or rip down a giant slalom course with Ligety. One of many GoPro-sponsored athletes, Ligety uses the cameras to help him adjust his body position in turns and to see close-up how his skis cut into the snow.
On a more practical level, surgeons have used GoPros to record difficult procedures. Along with the Super Bowl ad, Schmidt put together an eight-minute documentary of Baumgartner's sound-barrier-breaking Stratos flight, sponsored by Red Bull, using footage from the seven GoPros mounted on his suit and miniature balloon capsule. When Baumgartner steps onto the ledge, 20 miles above New Mexico, poised between blue air and black space, he says, "I wish you could see what I can see." And, thanks to GoPro, of course, we can.
When the GoPro HD Hero was introduced in 2009, the market leader was the Flip, made by Pure Digital, which Cisco Systems bought that May for $590 million. But Cisco wound up shuttering Flip only two years later, and GoPro has thrived. One reason was quality: The Flip didn't do anything that smartphones couldn't do better. But another, more important difference is GoPro's versatile mounting system, which allows it to be affixed to just about anything. Whatever it's attached to then becomes the film's fixed point of reference—the photographer—and everything else revolves around it. The results can be brilliant, as in a video Schmidt posted recently, where a camera was attached to the beak of a flying pelican—or nauseating, as in your buddy's shaky, unedited video of his kids skiing. With help from the company's free, downloadable editing software, anyone can make a movie.

"GoPro has enabled some awesome creative expression," says Kevin Allocca, head of culture and trends at YouTube, "and it's in their role as an enabler of nontraditional content producers that their impact lies."
The cameras are also being used more and more in film production. In their critically acclaimed 2012 documentary, Leviathan, filmmaker-ethnographers Lucien Castaing-Taylor and Véréna Paravel scattered dozens of GoPros around a New Bedford (Mass.) fishing boat, attaching them to nets, ropes, buoys, walls, the fishermen themselves, even the bottom of the ship. They captured such astonishing, disorienting, never-seen footage of fishermen and fish that Filmmaker magazine called it a "nonfiction game-changer." Mainstream Hollywood likes them, too—and not just in action movies but in hyperreal series such as Breaking Bad.
The next frontier is music and musicians. In January the company announced a concerted push into music, bundling its Hero 3+ Black edition with music-friendly accessories. More mounting gewgaws, specific to musical instruments and microphone stands, will be rolled out in April, along with a debut video by a band called Family Hang. Other musicians who have experimented with GoPro include soul singer Mayer Hawthorne and Mick Jagger.
Although GoPro's user base has been male-dominated, Schmidt has lately been choosing videos with wider appeal. He's in a wildlife phase (hence the deer rescue), but he's also been cutting longer videos. He has an even more compelling clip of South African gamekeeper Kevin Richardson roughhousing and playing with a pair of enormous lions as if they were giant puppies. A 90-second video of Richardson and the lions came out five months ago and attracted 2.7 million views. But when GoPro later released a 15-minute version, exploring the story of the "Lion Whisperer" in more depth, it got 10 million views and counting.

As the Xbox channel evolves, perhaps into a mainstream cable channel, one might expect to see more of these longer-form stories, even mini-documentaries, and fewer one-minute action shorts. At some point, the longer pieces could generate far more advertising revenue than YouTube clips. Says Jeff Brown, GoPro's vice president for communications: "I feel like I'm working at MTV in the '80s."
 
 
"I've been strapping cameras to my body for 20 years," says longtime outdoor photographer Steve Casimiro, who now edits the Adventure Journal website. They were awkward, clunky, easily damaged. The advent of the small, mountable, and durable video camera was a godsend, he says, but GoPro was hardly the only player—or, by his estimation, the best. "Three years ago, if you'd asked me to predict which camera company would surge forward, I would not have picked GoPro." Casimiro felt that a brand called Drift, for example, had a "more organic silhouette." He laughs now at how wrong he was. By the first half of 2013, GoPro had captured almost half the entire U.S. camcorder market, up from only 21 percent in the same period in 2012, IDC's Chute says. In the pocket digital camcorder segment, GoPro won about two-thirds of U.S. sales and 45 percent of the global pie. Meanwhile, traditional camcorder sales are in a tailspin, dropping by a third from June 2012 to June 2013, even as GoPro sales more than doubled, to 2.2 million units worldwide.
According to Chute, overall camcorder sales (including pocket ones) have been flat, which means GoPro has been cannibalizing market share from other companies, including established ones such as Sony.

GoPro's success has not discouraged competitors. In August, Garmin introduced one called the Virb, aimed at the same action and endurance athletes who buy its GPS self-tracking devices. Garmin hasn't exactly set the world on fire, but GoPro remains vulnerable. "If you're the founder of a market," Chute warns, "usually you're supplanted by a fast follower who innovates on top of the platform in a way that you can't."
Which brings us back to the media side of the business. GoPro clearly wants to create a kind of ecosystem, similar to Apple's, with a devoted fan base addicted to its hardware and software and a thriving core of creators and consumers. One way to do this, analysts say, could be by signing agreements with the National Football League and other sports leagues to place GoPros within the games—and to own at least a piece of the resulting footage. "Imagine being able to tune in to an NFL game, and you get a live feed from whatever player you want," says Laundry Service's Stein.
One of the most popular but least talked about categories in the GoPro oeuvre is the GoPro Fail, such as skiers doing face plants. One clip of a mountain biker being taken out by an antelope got 15 million views. There may be something about wearing a GoPro that makes you want to do crazy stuff. I tested this theory by strapping one to my 9-year-old niece, and she immediately jumped off her basement trampoline because she thought it would look cool on video. Which it did, but she also almost broke her arm.

Sometimes the adventure happens to the camera itself: One camera was clipped off a kiteboard and sank to the bottom, only to wash up—unharmed but crusty—several months later, with some interesting footage of what it's like to roll around on the seafloor. Other GoPros have ended up in a seagull's beak and under a pig's snout (after falling off a skydiver). Usually, it's pilot error, as with the guy in Colorado who got biffed off his snowmobile by an avalanche that he caused. As long as no one is seriously hurt, these mishaps can be pretty entertaining, but could there also be a metaphor here for the future of the company? Everything is going great right now—but that's what the snowmobiler thought, too.