Get It While It's Cold
by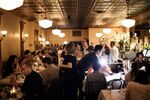 The days are getting longer, and so are the wait times at New York's restaurants, especially those that don't take reservations.
"Obviously people are willing to sit outside and wait for a long period of time while the weather's nice," says Ed Schoenfeld, the co-owner of Red Farm . "People can wait by strolling around the West Village. It's the sexy thing to do."
In addition, "people drop off the wait list in the winter much more than in the summer," says Krystal Lemons, the general manager at St. Anselm , a wildly popular steakhouse in Williamsburg. "In the summer, people will wait up to three hours. I know it sounds ridiculous, but it's true."
Same at Joseph Leonard in the West Village. "If you're waiting for your table in January, you'll probably go somewhere warm," says Luke Dirks, a managing partner at Happy Cooking Hospitality, which owns Joseph Leonard. "And when we call to say your table's ready, you go, 'OK ... we're not going outside again.' " Dirks estimates that wait times are 15 to 30 minutes longer in the summer, because in cold weather "when people put their names down but don't come back, the wait list disintegrates."
Good news for winter diners -- waltz right in to your favorite restaurant!
And for restaurant owners? "I'd phrase it differently," says Francine Stephens, who co-owns Franny's in Park Slope. "Our business has been down 10 to 15 percent because of the weather." At Franny's, where waits can get up to 45 minutes during peak summer hours, "we have empty tables" now, says Stephens. In fair weather, she says, "wait times won't necessarily increase -- it's just that our tables will fill up."
After a lousy winter, a few forced hours outside doesn't sound so bad.
"We're all ready for spring and a few daffodils and a little frisky play," says Schoenfeld of Red Farm. "I'm sure some of that is going to involve waiting in line."
Before it's here, it's on the Bloomberg Terminal.
LEARN MORE