Procter & Gamble's High-Tech Quest for the Perfect Diaper
A lot is riding on Procter & Gamble's quest for the perfect Pamper
by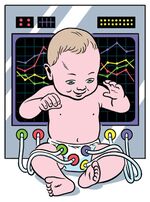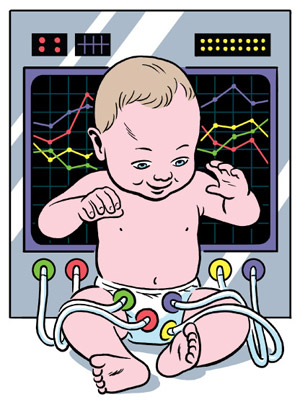 The teal-colored room packed with 12 toddlers and an almost equal number of watchful grown-ups could be a day-care center anywhere in the U.S.—except for the men and women in lab coats with tubes of saline solution in hand. This is Procter & Gamble's Discovery Center, a baby-care research lab just north of company headquarters in Cincinnati.
Toddlers romp around pulling books and toys onto the floor and sometimes escape into the hallway. Researchers set the children on examining tables and use small hoses to inject saline solution at precise "pee points" in the diapers—which differ for boys and girls—to determine how absorbent they are. "We're trying to build a diaper that is zero leakage, ultimate dryness, ultimate comfort, with an underwear-like fit," says Al Maingot, vice president for baby-care research and development.
There's a lot riding on P&G's push for Pampers perfection. The diaper accounted for more than $10 billion in revenue for the fiscal year that ended on June 30, or about 12 percent of total sales, making it P&G's largest brand. Pampers has 30.9 percent of the North American diaper market and only lags behind Kimberly-Clark's Huggies, with 38.7 percent. And less expensive private-label diapers, which have had a slow and steady rise, have gained ground, capturing 18.6 percent of the market last year. (Luvs, also owned by P&G, has a bit more than 10 percent of the market.)
Serving the diaper set is especially important to P&G because it lets the company forge ties with moms, the company's "core customer," says Virginia Morris, vice president for consumer strategy at Daymon Worldwide, a Stamford (Conn.) brand consulting firm. If moms are happy with their babies' diapers, they'll likely smile on other P&G products too, she says.
In recent years, revenue growth at the maker of Charmin toilet paper, Puffs facial tissues, and Tampax tampons has stalled, averaging only 0.4 percent for the past five years, compared with 4.2 percent at rival Unilever and 2.8 percent at Colgate-Palmolive. P&G has lost share in several product lines, including beauty, where sales fell 2 percent in the second half of 2013, which followed a 2 percent decline in the previous fiscal year. In the past 12 months, P&G shares have gained 2.1 percent, compared with a 9.7 percent increase for the 40-member Standard & Poor's 500 Consumer Staples Index.
Chief Executive Officer Bob McDonald resigned last year after hedge fund manager Bill Ackman, who bought a $1.8 billion stake in 2012, agitated for a replacement. McDonald was succeeded by former CEO A.G. Lafley, whose 2000-2009 tenure with P&G was marked by product introductions, overseas growth, and the $57 billion acquisition of Gillette.
P&G is counting on emerging markets to bolster its diaper business. North America comprised 24 percent of global sales in 2004 but dropped to 13 percent in 2013. Overall sales growth for diapers in the Asia-Pacific region, where birthrates are booming, is forecast to reach 44.8 percent through 2018, compared with 7.5 percent in the U.S., according to Euromonitor International.
The disposable diaper has come a long way since 1961, when it was created by a P&G engineer tired of washing his grandson's cloth ones. Tape fasteners replaced pins in the 1970s, and absorbent gel was added in 1986. Stretchy side panels improving fit were introduced in the 1990s. In 2010, P&G began making Dry Max Pampers, which were 20 percent thinner and twice as absorbent as earlier designs.
The innovations have been driven by the need to please and appease parents anxious about the twin miseries of chafing and diaper rash. Soon after Dry Max diapers went on sale, some parents became convinced they were causing rashes and chemical burns and took to blogs and Facebook demanding a product recall. P&G denied the claims, and U.S. regulators eventually declared the diapers ready to crawl. Kristin Swenson of Tampa says she used Pampers for her son, now 5, and her 18-month-old daughter because of the fit and leak protection. "I wanted him to be comfortable, but I also wanted to avoid a blowout," says Swenson, 35. "I would rather pay a little bit more for diapers than deal with stained sheets."
P&G is constantly enhancing diapers with softer fabrics, snugger leg bands, and sleeker shapes, and it has a chubby leg up in research and development, because its divisions can borrow each other's technology. Pampers use mesh found in its feminine-care products; the disposable absorbent fabric cushioning babies' bottoms is the same stuff mom and dad use when mopping the floors with P&G's Swiffer.
Each year, North American researchers conduct more than two dozen studies, interview 9,000 mothers, and log hundreds of hours of observations. Last fall, 200 parents took home a month's supply of Pampers and kept logs on how long their babies wore them without a whimper of complaint. They returned soiled diapers to the lab, where they were frozen and weighed to see how much liquid they'd absorbed.
Researchers at the baby-care centers—P&G operates five globally—spend hours watching how babies move, sit, and fall. The "gush volume" of urine is measured, and metal weights are dropped onto soiled diapers to check their durability. The researchers take 360-degree photographs of the tykes and grill parents about fit.
Adjustments are made constantly. Last year, acknowledging the undisputed fact that newborns have looser stool than older babies, P&G expanded the so-called poop zone and added more absorbent material to wee-size Pampers Swaddlers diapers. The company has about 5,000 granted or pending patents for the baby-care division. One is for curly fibers—strands of cellulose that draw liquid away from babies' skin faster than straight ones. The company says the curly fibers, used in all Pampers diapers, make them feel drier to the touch.
To make sure the materials are consistent, principal researcher Nancy Myers spends her days peering into a scanning electron microscope at a jumble of wavy strands magnified 20,000 times. She's checking to see if the fibers are big enough to let air in and small enough to keep liquid out and looking for any damaged or dirty ones. If there are problems with a prototype, the diaper is sent back to the lab, where workers assemble new models by hand. The lab churns out 150,000 models a year, many for diapers that won't come to market for a decade—and not before hundreds of tweaks, says Aaron Seitz, a scientist and the lab's director.
Down the hall from Myers and her microscope, another scientist, David Maltbie, is watching 3D virtual babies on a screen that runs the width of a room, checking the diapers for flaws. As an animated infant pees, he monitors how the diaper handles the digital fluid, searching for signs of leaking or puddling. The problems he reports send researchers back to the drawing board. Babies, it turns out, come in many shapes and sizes, Seitz says, so "fitting a diaper is like trying to fit a snowflake."
Before it's here, it's on the Bloomberg Terminal.
LEARN MORE