China Is Prepared for Rough Economy Ahead, Li Says
by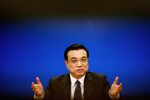 Even as China's economy shows further signs of weakening, Premier Li Keqiang said his government is prepared for challenges. "The Chinese economy has huge potential and flexibility. We have the ability and conditions to keep this year's economic operation within the reasonable range," he told reporters during a press conference on Thursday at the closing of the National People's Congress in Beijing. "We should first grind the ax before cutting firewood. We squarely face the difficulties and challenges, draw on advantages and avoid disadvantages. This is how we overcome difficulties."
China's industrial production, retail sales, and investment growth all came in below expectations for the first two months of the year. Factory output grew 8.6 percent in the first two months, the National Bureau of Statistics announced on March 13, less than the 9.5 percent expected in a survey by Bloomberg News.
Retail sales rose 11.8 percent—the slowest pace for the first two months in a decade, and less than a projected rise of 13.5 percent. Meanwhile, fixed-asset investment grew 17.9 percent, compared with an expected 19.4 percent, and slower than the 19.6 percent recorded last year.
"The fairly dramatic slowdown is unusual in Chinese economic history of the last decade" and the figures were "shockingly weak," said Dariusz Kowalczyk, senior economist and strategist at Credit Agricole CIB in Hong Kong. "It points to a major deceleration of momentum in the beginning of 2014," wrote Kowalczyk in a research note.
The latest signs of weakness follow rising local debt and problems with shadow banking, as well as overcapacity in industries including steel, cement, and solar equipment. China's first ever onshore corporate bond default occurred on March 7, when Chaori Solar Energy Science & Technology was unable to meet debt payments; the company had a net loss of 1.33 billion yuan ($216.7 million) in 2013, its third year of losses.
"I'm afraid sometimes certain individual cases of defaults are unavoidable. What we should do is to step up monitoring, properly handle relevant matters, and ensure there is no regional and systemic financial risk," said Li in the press conference.
Perhaps in an admission that Beijing may face challenges in maintaining high economic growth in 2014, Li left some wiggle room: "Since we say the GDP growth target is about 7.5 percent, 'about' means it has a certain degree of flexibility," he said at the press briefing in Beijing. "A bit higher or a bit lower, we have a level of tolerance here."
Before it's here, it's on the Bloomberg Terminal.
LEARN MORE