BNP Sees Bond Value on Cresting Water Utility Risks: U.K. Credit
Louise Downing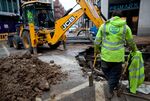 The bonds of U.K. water utilities are again offering value after the threat of price curbs rattled investors, according to BNP Paribas SA.
"Bond risks have peaked in the water industry," James Sparrow, a London-based BNP credit analyst, said yesterday. "Although regulatory uncertainty will remain throughout the rest of 2014, I expect spreads to gradually tighten as the uncertainty recedes."
Ofwat, the regulator, is reviewing how much companies can charge in the five years starting April 2015. It proposed returns of 3.85 percent in January, less than that sought by the utilities and below the current 5.1 percent. The final settlement is expected to be announced by the end of the year. Lawmakers argue utilities are adding to voters' cost of living.
The prospect of reduced rewards for investors and a lack of clarity on prices have pushed up the yields of water company bonds relative to government benchmarks, and led Standard & Poor's and Moody's Investors Service to warn that credit ratings are at risk.
"What we are concerned about with the price review is the lower returns that are likely to be available from 2015 because of Ofwat's focus on affordability," said Mark Davidson, S&P's director for infrastructure finance ratings. "It's a big deal because water companies are big borrowers."
Borrowing Costs
A downgrade could raise the cost of debt for companies that borrow heavily for large investments to maintain or improve the country's water infrastructure. Companies that are already lowly rated need to avoid losing access to investors, Davidson said.
Thames Water Plc plans to upgrade and replace London's aging sewer network. Anglian Water says it plans to spend 5 billion pounds ($8.3 billion) between 2015 and 2020, partly to ensure its equipment works reliably, and Yorkshire Water Services Ltd., owned by Kelda Group Ltd., is spending 3.8 billion pounds to 2020.
Industry spreads have risen this year and are back at levels last seen in October, when investors began expressing concerns about the review.
"It's a misconception to say that spreads have not been affected," said Isaac Xenitides, director of corporate finance, capital and debt advisory at Ernst & Young LLP.
Severn Trent Plc bonds maturing February 2024 yielded 113 basis points more than similar maturity government debt today, up from 100.8 on Jan. 17. The spread on United Utilities Group Plc debt due in 2027 is 108 basis points compared with 99 on Jan. 20.
Acquisition Risk
The Bank of America Merrill Lynch sterling utility index including electricity and water companies shows spreads have contracted to 136 points from 148 since October.
"Ultimately the government and the regulator's duty is to ensure that there is a financeable market," said Christoper Lowe, a partner in corporate finance, capital and debt advisory at E&Y. "For it to be financeable, if everything else stays the same but the cost of debt has gone up and the major capex programs are going to have to get implemented, the only way it will work is that there is going to have to be more revenue."
Another risk for bonds may follow the completion of the review as investors seeking regulated incomes look for potential acquisitions. Severn Trent rejected a takeover offer in June, saying it was too low. Such acquisitions typically add to the company's debt, threatening to worsen its credit outlook.
The structure of water utilities, where bonds are often issued by a holding company rather than the operating business, helps to ameliorate this effect, according to BNP's Sparrow.
"Operating company bondholders have benefited from mergers and acquisitions as they have been paid incentive fees to allow securitisation structures to be implemented," he said.
Before it's here, it's on the Bloomberg Terminal.
LEARN MORE