Baidu Falls as Slowdown Woes Sink ADRs: China Overnight
Elena Popina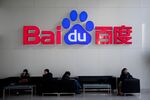 Baidu Inc. tumbled, leading Chinese stocks trading in New York to a five-week low, amid worse-than-estimated economic data and concern the crisis in Ukraine will escalate.
The Bloomberg China-US Equity Index of the most-traded stocks in the U.S. dropped 2.7 percent to 96.49, extending a five-day slump to 8.2 percent. Baidu, owner of the nation's biggest Internet search engine, slid to the lowest in a month. Home Inns & Hotels Management Inc., which runs China's biggest budget hotel chain, plunged 11 percent in its biggest decline since September 2011, while E-Commerce China Dangdang Inc., the country's largest online bookseller, sank 5.8 percent.
China's factory-production grew 8.6 percent in January and February, the worst start to a year since 2009, while retail sales increased at the slowest pace since 2004. U.S. Secretary of State John Kerry told a Senate panel in Washington that the U.S. and Europe will take "very serious" steps the day after the vote "if there is no sign" of a resolution to the crisis in Ukraine.
"On top of the bad data from China, tensions between Ukraine and Russia are in the headlines again, and this adds up to the general uncertainty," Paul Zemsky, the head of multi-asset strategies at ING U.S. Investment Management, which oversees $200 billion, said by phone yesterday.
The iShares China Large-Cap ETF, the largest Chinese exchange-traded fund in the U.S., retreated 2.5 percent to an eight-month low of $32.98, while the Standard & Poor's 500 Index slipped 1.2 percent.
Market 'Disappointed'
Factory-production growth compared with the 9.5 percent median projection of analysts surveyed by Bloomberg News and a 9.7 percent advance in December. Fixed-asset investment excluding rural households rose 17.9 percent in the first two months from a year earlier, compared with a 2013 full-year pace of 19.6 percent and 21.2 percent in the same period last year. Retail sales rose 11.8 percent after increasing 13.6 percent in December.
"In the old days, whenever Chinese growth slowed, policy makers stepped in with a burst of stimulus, and that's what investors have always relied on," Mark Williams, chief Asia economist at London-based Capital Economics Ltd., said by phone yesterday. "Investors are being wrong-footed by China. The market keeps expecting Chinese growth to rebound and the market keeps being disappointed."
The data came as premier Li Keqiang said there's some "flexibility" around the nation's target of 7.5 percent growth this year, without giving details.
Shots Fired
Shots were fired by a Russian armored vehicle yesterday near a Ukrainian border-patrol plane, the Border Service said in a statement on its website, adding that it wasn't clear if the aircraft was targeted. Another such plane took evasive action five days ago to avoid machine-gun fire, the service said.
Baidu, based in Beijing, slid 4.6 percent to $166.09, the lowest level since Feb. 10. Dangdang retreated to $15.79, trimming its 2014 surge to 65 percent. Home Inns, based in Shanghai, slumped to $31.41, the lowest since August.
The Shanghai Composite Index added 1.1 percent, the most in three weeks, to 2,019.11, amid speculation the securities regulator will allow listed companies to sell preferred shares for the first time. The Hang Seng China Enterprises Index of mainland stocks traded in Hong Kong retreated 0.4 percent to 9,322.93.
Before it's here, it's on the Bloomberg Terminal.
LEARN MORE