Why Malaysia Will Say Almost Nothing About the Missing Plane
By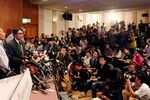 With an international team of investigators still seemingly baffled about what happened to Malaysia Airlines Flight MH370, which disappeared over the weekend, relatives of the passengers and diplomats from countries touched by the mishap have vented their frustration with the Malaysian government. For days, it seems, Malaysian officials and the state-owned carrier have released almost no information about the flight or working theories of why it vanished. Malaysia Airlines did not even inform relatives for 15 hours that the plane had disappeared, sending the distraught families to a hotel in Beijing to wait, and Kuala Lumpur's envoys still have mostly kept the relatives in the dark days later.
More than 100 friends and relatives of the vanished passengers signed a petition on Monday calling on the Malaysian government to be more transparent and answer questions. Several of the relatives threw bottles at Malaysia Airlines employees who came to speak with them in Beijing, where the missing plane had been headed, but mostly the officials maintained their tight-lipped approach.
The frustration felt by families of the missing is understandable and reasonable, but no one should have expected much better from the Malaysian government. Although theoretically a democracy with regular, contested elections, Malaysia has been ruled since independence by the same governing coalition that has become known for its lack of transparency and disinterest—even outright hostility—toward the press and inquiring citizens. For a relatively wealthy country, Malaysia is also unusually prone to corruption. Since the Sept. 11 attacks and the revelations that al-Qaeda members had convened planning meetings in Malaysia, the government has become intensely controlling of any information about potential terror threats while maintaining a liberal visa policy for arrivals.
Malaysia's actual air safety record is, according to aviation experts, relatively strong. That achievement is unsurprising for a country with a per capita gross domestic product of about $10,400, which has become a global hub for electronics production and other high-tech manufacturing. Before the disappearance of Flight MH370, Malaysia Airlines had not suffered a fatal crash since 1995. Kuala Lumpur, where the plane originated, has an even higher GDP per capita than the rest of the country—about $18,000—and boasts a vast, modern skyline, efficient transport, and gleaming new suburbs.
But Malaysia's politics have not kept pace with its economic expansion. The long-ruling Barisan Nasional coalition has continued to win elections through massive gerrymandering, outright thuggery, and opposition parties' inability to stop squabbling and make connections with rural voters.
In the most recent national elections, held in May 2013, the Barisan Nasional coalition won the largest number of seats in parliament, although the opposition actually won the popular vote; only gerrymandering, massive handouts to voters, and many election irregularities ensured the Barisan Nasional's victory. In addition, the ruling party squeaked home by appealing primarily to the most hardline elements within its coalition, politicians and voters disdainful of the country's multiethnic identity and the incremental freedoms of expression and social life that have developed in the past 20 years.
So even though Malaysia is far richer than neighboring Indonesia or the Philippines, those countries' histories of democratic politics have made their politicians more accountable and more attuned to public expectations. Since independence in 1957, Malaysia has had only six prime ministers and the senior ranks of the ruling coalition have gained little fresh blood. In the current crisis, Prime Minister Najib Razak has made few substantive comments on the plane, while Malaysia's major state-controlled media outlets, which in theory could have been ahead of the plane investigation story, have been very timid in their reporting.
This lack of accountability filters down, especially at state-owned enterprises such as Malaysia Airlines, which are notorious in Malaysia for insider dealing, corruption, and lack of transparency. Even before the crash, Malaysia Airlines' parent company had lost money the last three years, including a huge loss of more than $350 million in 2013, in part because of its terrible management. One comprehensive study of government-linked companies, conducted by a group of economists in Australia and Malaysia, found that Malaysia state-run firms had worse corporate governance than publicly traded Malaysian companies not controlled by the state. Partly because investors understood that state-run companies were so poorly managed, the study found lower overall valuations on the Malaysian stock market. In other words, these state companies traded at a discount because of their mismanagement.
Malaysia's lack of transparency and weak institutions have made graft and corruption endemic, making it easy for people to be smuggled in or out of the country, often on stolen passports. The watchdog organization Global Financial Integrity has ranked Malaysia as one of the countries with the biggest illicit outflows of money in the world, while corruption monitoring organization Transparency International ranks Malaysia 53rd in the world in terms of clean government, below many poorer nations with fewer potential resources to combat graft.
At least two of the people on the vanished flight, and possibly more, apparently traveled on stolen passports and may have been migrants using people smugglers to get through Malaysia and on, eventually, to Europe. The head of Interpol, Ronald Noble, has expressed surprise at how easy these people with stolen passports boarded the plane.
Malaysia's fraught relationship with other Muslim-majority countries and the U.S. has made Kuala Lumpur's leaders, never very transparent, even more opaque when it comes to intelligence-sharing and counterterrorism. Although no one seems to have determined whether the flight's disappearance is related to terrorism, do not expect the Malaysian government to be the one providing any answers to the public if it turns out terrorism was involved. Malaysia has long had a relatively liberal visa policy toward Muslims from other countries, in part because it needed foreign workers and in part because this policy had traditionally been popular. (That policy, in part, is why Osama bin Laden recommended Malaysia as a place for terror operatives to meet and for wounded fighters to recover.)
But at the same time Malaysia has maintained a relatively liberal visa policy, it has cooperated closely with Britain and the U.S. on intelligence and security matters. This cooperation has always been extremely unpopular with the majority of Malaysians, and so successive prime ministers have worked hard to conceal it from public discourse. Unfortunately for the relatives of the vanished plane, the prime minister's natural secrecy seems to have become so normal, for him and other government officials, that he cannot break the habit even in times of horrible tragedy.
Before it's here, it's on the Bloomberg Terminal.
LEARN MORE