Toms Jumps From Cheap Shoes to Expensive Coffee
By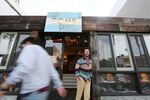 Toms, the company behind those nearly ubiquitous espadrilles, is now selling coffee. Founder Blake Mycoskie broke out blue-and-white striped bags of beans earlier this week at the annual South by Southwest gathering in Austin, Tex. Why coffee instead of, say, socks? It's not entirely clear. Toms has a café in its Los Angeles flagship store, and people who love coffee also tend to wear shoes.
There's actually more to it than that. Toms, founded in 2006, donates a ton of shoes in countries that grow some great coffee, so the company simply reversed the philanthropic supply chain a bit.
For each bag of beans, Toms promises to fund one week of clean water to somebody in need via Water for People, a nonprofit that works in the same countries where Toms is getting its coffee. Toms has a similar model with its eyewear and its shoes—one pair given for each pair bought.
The company is selling beans based on geography, with one variety each from Guatemala, Honduras, Malawi, Peru, and Rwanda, plus a mixed-bag blend dubbed Carpe Diem Espresso. At $13 per 12-ounce bag, the coffee is more expensive than beans from Peets or Starbucks. Toms is also enrolling caffeine junkies in its Roasting Club, which ships seasonal specific coffee each month for $12.50 to $16.50 a bag, depending on how long customers commit and how much coffee they want.
"When we started as a shoe company, we knew nothing about footwear," Toms writes on its website. "But starting from scratch only made us work that much harder."
The question, however, isn't whether Toms knows anything about coffee. It can hire people who do (and hopefully already has). The question is how much of its commerce is a result of its philanthropic mission? With the shoes, it's kind of hard to tell. Toms definitely sells scads of them, as anyone who has summered south of the Arctic Circle can attest. But it has also tapped into a fashion trend. There aren't a lot of similar shoes on the market.
There is, however, plenty of good, unique coffee to be had.
Before it's here, it's on the Bloomberg Terminal.
LEARN MORE