This Group Wants Companies to Take Clowning Seriously
Amy S. Choi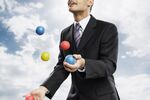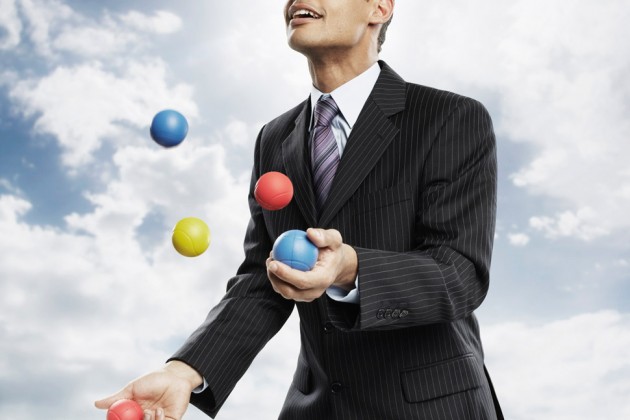 Ever wonder what a group of MBA students would be like at circus camp?
"We've taught lots of groups how to juggle, and I'd say the Duke business school students were a little bit more on the intense and focused side of the spectrum," says Paul Miller, founder of Skoyz Wellness. "There was an attitude that was very, 'I'm here to learn how to juggle and I expect to get this done.' They were maybe a little less playful than other groups."
Miller is happy to have that intensity, courtesy of students at Duke's Fuqua School of Business, focused on building his company. Skoyz aims to help corporations boost employee engagement by teaching juggling and such other skill games as flower sticks, where you bounce a baton with a stick in each hand.
The company grew out of Miller's first business, Flow Circus, which put on performances for kids and taught them circus tricks in order to build confidence and encourage team building. Parents, educators, and administrators showed interest in the skills courses. The popularity of his games-based, team-building programs made Miller think he could tap into the more lucrative corporate market.
To help make that transition, the Wake Forest (N.C.)-based company turned to the Fuqua Client Consulting Practicum, which takes on a few dozen clients a year for consulting projects led by student teams.
"Flow Circus came to us wanting to shift their focus from their existing market segment to the corporate sector, where there is huge potential," says Sherin Kurian, a Fuqua first-year student working with two other students on the project. "We're in the process now of understanding the market requirements and helping them position the product for companies."
Physically engaging in shared play and learning new skills can improve moods, boost morale, and enhance employee focus, argues Miller, who cites a 2013 Gallup poll noting that 70 million American workers are either not engaged or actively disengaged from work. For corporations, engagement translates to greater profits as workers stay home less and work harder.
To research their client, Fuqua's consulting team had to learn what Skoyz Wellness does. Twenty students joined Kurian and her group in late February for a juggling lesson taught by Miller. "We went through the whole process, starting with one ball, then two, then three," she says. "None of us thought we could do it, but at the end of the two hour session we could!" Miller broke down juggling, step-by-step, and at the end, Kurian says, all the students were engaged physically, emotionally, and socially.
"One of the challenges that we are working with Paul on is understanding how different people work and how these trainings and toys can be used in different workplaces," says James Emery, a professor at Fuqua and co-director of the Consulting Practicum. "We are helping them form their particular value proposition to different types of clients."
Duke University may be one of them. After the demo, says Kurian, the administration expressed interest in hiring Skoyz Wellness, though it didn't make any commitments. No business school professors have yet been spotted spinning plates on campus, but Emery, who observed part of Miller's training, thinks Skoyz could enhance Fuqua's campus: "I'm sure everyone would have a good laugh watching me try to juggle."
Before it's here, it's on the Bloomberg Terminal.
LEARN MORE