MoMA Hands You a Heinecken and Says the Medium Isn't the Message
by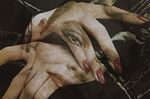 When the Museum of Modern Art released a widely criticized expansion plan in January, it mentioned an "integrated display" of its collection "across all disciplines."
It didn't mention plans that Eva Respini, a curator in MoMA's department of photography, cites to "abolish our medium-specific galleries" by 2017.
Under this scenario, the New York museum's familiar photo, painting and sculpture, and architecture and design sections would give way to galleries that gather many media together to display an artistic movement or time period. "It's been a conversation in the museum for some time," says Respini. "You can tell a rich story of modernism and contemporary art when you have all of the mediums in one room."
The benefits of such a synthesis, already in place at such museums as the Whitney, the Guggenheim and the New Museum, are highlighted by Respini's own sweeping new exhibition, "Robert Heinecken: Object Matter ," which opens on March 15 in one of MoMA's special-exhibitions galleries. "Heinecken was a pioneer with a radical experimentation of different materials," Respini says. "Much of his work is with found images -- newspapers, magazines, TV, pornography. He reused and recycled the same image sources with different materials."
The result is a body of work that defies classification. Collages share space with lithographs and sculpture, while his "altered magazines," or periodicals in which he superimposed images from other sources on the pages, are displayed near some of his more traditional photography. "He spoke about how he works with photographic ideas, even if the end result isn't a traditional photograph," Respini says, so the show is a holistic exhibition of a 20th-century artist's work. "It's a contemporary way of working," she says. "It's rare that an artist only makes paintings or only makes photographs."
Heinecken, whose work spanned the early 1960s through the late 1990s, is in the company of artists like Robert Rauschenberg and John Baldessari, who also willfully blurred the lines between photography, collage and painting. But those artists were in the avant-garde almost a half-century ago. MoMA is playing catch-up here.
Nothing is final yet. "The benefits are clear," Respini says. "The issue is how we lay it out."
But the Heinecken show could provide a road map for how the galleries might evolve, especially given that "Alibis: Sigmar Polke" opens on the same floor at MoMA next month. Polke, an artist whose work spanned roughly the same period as Heinecken's, is known equally as a painter, photographer and filmmaker. Together, the two shows will create a dialogue that, if broken up into specific sections like painting, sculpture and so forth, would be impossible. Why should the museum's permanent exhibitions be any different?
"It just happens to currently be the organizing principle of the museum," Respini says. "To contemporary viewers, that distinction doesn't really matter anymore."

Before it's here, it's on the Bloomberg Terminal.
LEARN MORE