Lion's Kirana Eyes Farm Post After Cheap Flights: Southeast Asia
Harry Suhartono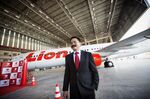 Indonesia's Lion Group founder Rusdi Kirana may step down this year as chief executive officer to focus on his political career in hope of becoming the agriculture minister of the world's fourth-most populous nation.
Kirana, who helped start budget carrier PT Lion Mentari Airlines 15 years ago, will tap on his business skills to help farmers from financing to managing their crops if given a seat in the country's next cabinet after the July elections, he said. He will leave the company with a goal to become Asia's biggest low-cost airline in two years after expanding its fleet, he said.
If airline operators are able to half the costs over the past decade, "why can't we do the same with agriculture?" Kirana said in an interview in Jakarta. "I can help a lot of people."
The expansion of Lion Air in the past decade to become the country's largest carrier highlights the greater demand from Indonesia's emerging middle class for everything from flights to more imported wheat for donuts. Indonesia, Southeast Asia's biggest economy, is trying to be self-sufficient in production of its staple food rice.
A January poll by the Indonesian Survey Circle put Jakarta Governor Joko Widodo as most likely to win the presidency, even though he hasn't announced plans to run. The Golkar party's candidate Aburizal Bakrie, who rates himself the favorite, wants to focus on rural development and improving infrastructure, while ex-general Prabowo Subianto of the Gerindra party wants to open up new land for food production.
Loan Sharks
The former travel agent would like to apply his experience in business negotiations including financing for an orderbook of about 700 planes, Kirana said. A major challenge in the country's agriculture industry is the ability for farmers to get bank loans, putting them at risk when harvests or commodity prices drop.
"They borrow 100 percent from loan sharks," he said.
By the end of this year, Lion Air and state-controlled PT Garuda Indonesia will surpass Singapore Airlines Ltd. as Southeast Asia's biggest carriers by fleet size, the CAPA Centre for Aviation, which advises airlines, said last year. Boeing Co. and Airbus SAS, the world's two biggest planemakers, both count on Asian airlines to buy more aircraft in the next two decades.
"He has been planning this for a number of years," Shukor Yusof, Singapore-based analyst at Standard & Poor's, said by phone today. "Clearly he has done all the preparation for this moment. But running one country's agricultural sector is totally different from running an airline, so we have to see how he can do that."
AirAsia Competition
Lion Group plans to order a few dozen more planes soon, said Kirana, without specifying the type, and plans to have a fleet of 1,000 planes. Lion Air agreed to buy 230 Boeing 737 planes in 2012 and followed that with an order for 234 Airbus planes last year. The group will open an Australian airline in the next 12 months, called Aussie Batik, Kirana said.
Lion Air's biggest competitor is AirAsia Group Chief Executive Officer Tony Fernandes, who last month eased the growth plans of Asia's biggest discount airline as the region absorbs large plane orders.
"We can be friends but we also have to compete," Kirana said. "Tony always thinks that he is the biggest low-cost airline, so I want to tell him that he will not be. He has deferred his orders while we are ramping up."
Back Seat
After taking 150 planes in 13 years for Malaysia, Thailand and Indonesia, with 350 more in the backlog, Fernandes said last month he's ready to take a "back seat," deferring seven deliveries this year and 12 in 2015 to help adapt as rivals flood the market. Still, he disagrees that will give Lion Air the edge.
"We must be doing something right as all low-cost carriers will always mention being bigger, better than AirAsia," he said in an e-mailed response to Bloomberg News. "Our strategy remains clear and undeterred by others."
Kirana doesn't think there will be overcapacity in the region's planes given Asia's economic growth, and wants his successor to focus on having lower costs than competitors.
Rudy Lumingkewas, Jakarta-based Lion Air's general manager of sales and marketing, has taken over as its new CEO, Lion Group said on March 5. Kirana said he is training his 22-year-old nephew to replace Rudy within a decade, without giving his name.
"There are no new challenges for me in the airline industry," Kirana said in an interview with Bloomberg TV Indonesia. "I thought I'd be better off entering politics and trying to improve the livelihood of more people and leave a good legacy."
Before it's here, it's on the Bloomberg Terminal.
LEARN MORE