Lew Says Ukraine Needs $15 Billion or More in Economic Aid
Kasia Klimasinska and Ian Katz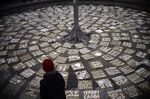 Treasury Secretary Jacob J. Lew said an international aid package for Ukraine may be $15 billion or larger and, as a result, the International Monetary Fund needs to be the "first responder."
Lew, testifying today before the Senate Budget Committee, reiterated that the U.S. is "ready to do what we can to help Ukraine" and called on Russia to "take the necessary actions to resolve this crisis."
Lew and the Obama administration want Congress to approve a boost in IMF resources that's part of a 2010 agreement by member countries to double the fund's lending capacity to about $733 billion. The plan would give emerging markets such as China more clout at the fund, which was set up at the end of World War II to help safeguard the stability of the global monetary system.
The Republican-led House opted not to include the IMF provision in legislation the House Foreign Affairs Committee approved last week seeking sanctions against Russia, or in a bill to provide $1 billion in loan guarantees for Ukraine. The Senate could vote on a Ukraine package this week.
Republican senators on the budget committee including ranking member Jeff Sessions of Alabama and Pat Toomey of Pennsylvania said adding the IMF lending increase to the Ukrainian package may make it more difficult to approve.
Toomey said the IMF changes would boost Russia's voting power. Lew responded that Russia's increase would be "trivial."
Help Ukraine
Lew, asked whether the IMF increase was necessary to help Ukraine, said the lack of U.S. approval undermines him in talks with foreign counterparts.
"I'm in one part of the conversation urging them to do what we want" and in another being asked why the U.S. hasn't done its part, he said. "We need to not be on the defense."
Lew is scheduled to join President Barack Obama in his meeting today with visiting Ukrainian Prime Minister Arseniy Yatsenyuk.
Obama's fiscal 2015 budget plan, sent to Congress March 4, would boost the U.S. share, or quota, at the Washington-based IMF by shifting about $63 billion from an existing credit line. House Republicans in January refused to include the IMF quota changes in a measure to fund U.S. government operations.
Before it's here, it's on the Bloomberg Terminal.
LEARN MORE