F-1 Backlash Means Biggest Wealth Fund Faces New Oversight
Saleha Mohsin and Mikael Holter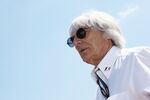 Norway's largest political party wants to look into revamping oversight of the nation's $850 billion sovereign wealth fund amid questions around its handling of an investment in Formula One.
The opposition Labor Party is responding to local media reports questioning whether the state-run fund followed its mandate when it invested in the auto racing group ahead of a planned initial public offering. The fund can only buy private equity if a company is planning to sell shares to go public. Formula One's IPO was subsequently canceled.
"In light of the Formula One incident, you see that the structures as they are now are too complicated to handle the fund," Torstein Tvedt Solberg, a Labor lawmaker on the parliament's finance committee, said yesterday in an interview. "Especially if you want to expand the fund further, we need to look into new ways of oversight."
Control of the wealth fund is split across parliament, the government and the central bank. The Finance Ministry provides a mandate for the fund, which is then managed by the central bank. The bank's seven-member board, which is appointed by the government and includes the governor and deputy governor, helps oversee the fund. A 15-member supervisory council, elected by parliament, oversees the central bank.
Complex Layers
Tvedt Solberg said the complex layers of oversight make it difficult for the government or parliament to get answers from the fund's chief executive officer, Yngve Slyngstad.
"Only the Finance Ministry can invite someone from Norges Bank to parliament, but then they must go through" Governor Oeystein Olsen because he oversees the Norges Bank Investment Management, Tvedt Solberg said.
The fund's Formula One investment "shows that going into the private market, it's more difficult to be transparent -- there are confidentiality agreements," Tvedt Solberg said. "The fund is for the Norwegian people, so we need to know what's going on."
Last month, a U.K. judge said Formula One Chief Executive Officer Bernie Ecclestone had made a "corrupt" payment to facilitate the sale of the racing series and called him neither "reliable or truthful." Though Judge Guy Newey dismissed a suit seeking $140 million over bribery allegations, he's the second judge to find that Ecclestone paid a bribe during the 2005 sale. Ecclestone faces a criminal trial in Germany.
Ecclestone said in an interview last month that he wanted the trial to start so he can "clear up all the nonsense," and that it wouldn't interfere with his running of Formula One.
Risk Analysis
"We did a thorough risk analysis considering all aspects prior to entering this company," Thomas Sevang, a spokesman for the fund, said in an e-mailed reply to questions. Asked whether any of the fund's employees ever attended Formula One races, he said the fund "has not organized or paid for any participation in a Formula One race for employees."
Slyngstad said in an interview published yesterday in newspaper Dagens Naeringsliv that he now finds the Formula One investment "very unfortunate" and that the fund has "zero tolerance" for corruption.
No Mention
The controversy marks a setback in the fund's efforts to win permission to invest in private equity, which it says would help it reach a 4 percent return target. The Conservative-led government, which will present a white paper on the fund next month, had signaled willingness to expand the investment mandate to include private equity and infrastructure, in addition to the stocks, bonds and real estate it now is allowed to buy. The fund had an annual net real return of 3.98 percent over the past 10 years.
The government wants "the greatest possible transparency in the management and an emphasis on ethics," Finance Minister Siv Jensen said in a letter to parliament released today. Those topics will be addressed in the white paper and the government will "at a later date" come back to the question of investing in private equity, she said.
Jensen said that she wants to respect the separation of roles in the oversight of the fund, "registering" that parliament's supervisory council has flagged no objections to the Formula One investment in its reports. Slyngstad has also commented on the investment several times, she said.
'Many Questions'
The investment, the fund's first ever in an unlisted company, raises "many questions" on whether it should be allowed to buy private equity, Hans Olav Syversen, a Christian Democrat, who heads parliament's finance committee and is a key supporter of the minority government, said last week in an interview. If the mandate were expanded, it "would need to be within a solid framework" including provisions for openness, social responsibility and against tax evasion, he said.
The fund in May 2012, along with BlackRock Inc. and Waddell & Reed Financial Inc., bought a 21 percent stake in Formula One from CVC Capital Partners Ltd. for $1.6 billion.
Olsen has said Norges Bank's board is "content" with the fund's performance and management. It returned 15.9 percent in 2013, led by a surge in its stock holdings.
"We have a clear and solid, well-anchored strategy for when I or Yngve Slyngstad should be available for the public," Olsen said in a Feb. 28 interview after a speech in Oslo. "I would say Norges Bank Investment Management and their leaders, if you compare those people and our policy and signals with other similar funds, you will see that we are very transparent. We seek gradually to improve that and the way we communicate in the annual report."
Before it's here, it's on the Bloomberg Terminal.
LEARN MORE